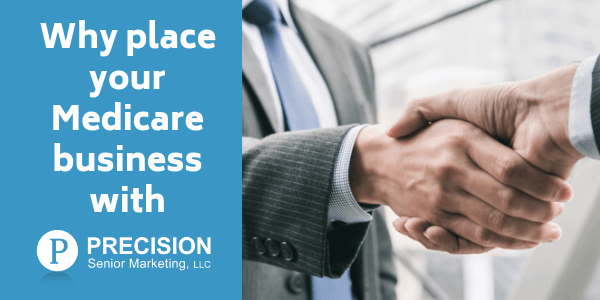 As a PSM producing agent you have the opportunity to tap into our Top Flight Lead Incentive awarding you with $430 per 10 Medicare Supplement or Medicare Advantage sales to use for leads or other Medicare Marketing initiatives.*
This $430 credit per 10 sales can be used for initiatives including:
1,000 piece direct mail campaign

Facebook Advertising / Marketing Campaign for Medicare

Internet leads or another vendor specifically for Medicare (Buy the leads, send us the invoice, and we will reimburse you back up to $430)

Medicare Advantage Sales Seminars and Educational Events

E&O Reimbursement

Annual membership to ReferMe IQ Referral Platform
* Street level contract direct to PSM
* Med Supp GI Business not included
In addition to our Top Flight Lead Incentive, we also provide the following value-added benefits:
50/50 co-op for Medicare Advantage Marketing* - we will reimburse half of what an agent spends on their Medicare marketing initiatives. For example if an agent spends $2,000 on their Medicare Marketing, we will reimburse $1,000 as long as we have receipts / invoices to show $2,000 was spent on Medicare Marketing.


* Requires prior approval

Access to Retail Programs at Wal-Mart during AEP for lead generation activities & sales events.
Connections to local market managers for certain carriers to provide local trainings and hands on events for Medicare Advantage, Special Needs Plans, and Dual Eligible Plans.
Access to a remote enrollment system allowing agents to compliantly write Medicare Advantage and Prescription Drug applications electronically and by phone.
Comprehensive quoting software from CSG that quotes ALL carriers in the US for Medicare Supplements, Medicare Advantage, Prescription Drugs, Hospital Indemnity, Dental, and Final Expense plans.
Comprehensive training videos with assessment tests at the end to test knowledge and move toward becoming an expert.
Open Release Policy – we will not hold you captive.
At PSM we offer the industry's leading carriers, with the highest attainable contracts, along with the tools, resources and incentives necessary to grow your business and succeed in a booming market. We look forward to working with you!
Related Article: "The Benefits of Working with an Insurance FMO"
Additional Updates: