Millions of Part D Enrollees Have Had Out-of-Pocket Drug Spending Above the Catastrophic Threshold Over Time




Medicare Part D enrollees with drug costs high enough to exceed the catastrophic coverage threshold are required to pay 5% of their total drug costs unless they qualify for Part D Low-Income Subsidies (LIS).
With no hard cap on out-of-pocket drug spending, Medicare beneficiaries without LIS who take high-cost drugs for conditions such as cancer, multiple sclerosis, rheumatoid arthritis, or hepatitis C may pay thousands of dollars in out-of-pocket costs for their medications after exceeding the catastrophic threshold.
As seen below, in 2019 almost 1.5 million enrollees had out of pocket(oop) expenses above the catastrophic threshold for at least 1 year.
Looking over a 5 year period, the number of enrollees with oop above catastrophic in at least 1 year was over 2.7 million.
Over a 10 year period the number of enrollees increases to over 3.6 million.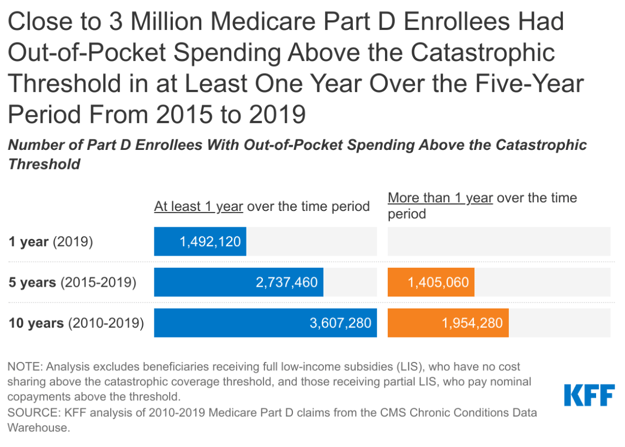 Adding a hard out-of-pocket cap to Part D, as has been proposed by policymakers on both sides of the aisle, would help the growing number of Medicare beneficiaries who take just one very high-priced drug for medical conditions such as cancer or multiple sclerosis, or who take a handful of relatively costly brand or specialty medications to manage chronic illness.
Capping out-of-pocket costs under Part D would protect Medicare beneficiaries against very high levels of out-of-pocket drug costs, including those with one-time catastrophic costs as well as those with high drug expenses year after year.
While adding a cap on out-of-pocket drug spending under Part D would generate cost savings to enrollees, it could also add costs to the program, unless combined with other policies to lower Medicare drug spending, which are the subject of ongoing discussion in Congress.