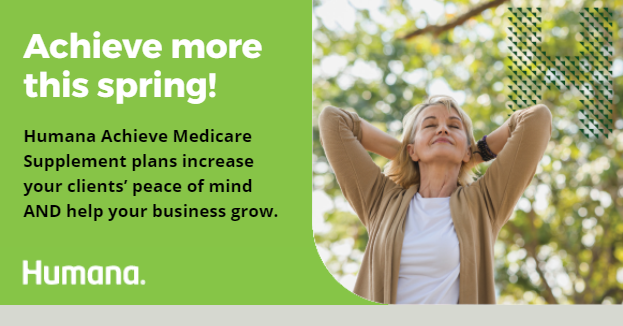 Up to $325 per issued policy and
unlimited bonuses for 2023!

Earn unlimited bonuses for new business applications submitted and approved in April, May and June 2023 for Humana Achieve Medicare Supplement plans, starting with the first issued app! Qualify with just one issued case.


---
Competitive Rates in Texas!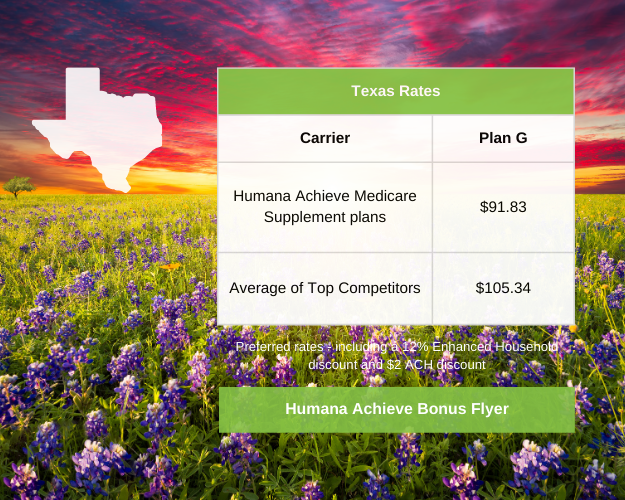 Talk about a win-win! You can now offer customers amazing rates and put more cash in your pocket when you sell these plans and others.
View the Texas Outline of Coverage →
2023 Member Extra Services Booklet →
Not appointed to sell Humana Medicare Supplement plans? Request details.


---

For Agent Use Only. Not For Public Distribution.
Issued cases must be specific to Humana Achieve Medicare Supplement Plans. Application must be approved and policy active for 60 days for bonus to be paid. Program period runs from 4/1/2023 to 6/30/2023. Payments will be made in July 2023. U65 Disability and Guaranteed Issued cases will be paid according to individual state commission guidelines. F(HD) and G(HD) plans excluded from this bonus offer. Agent must be actively contracted and appointed with Humana and remain in good standing with Humana throughout the duration of the contest period and within the Humana Strategic Hierarchy. Call Center agents not eligible. Agent may be obligated to disclose compensation to clients and prospective clients. Because state laws vary, agent should be aware of and comply with applicable state compensation disclosure requirements. Reporting of compensation from this incentive program and tax implications of this incentive program are the responsibility of the agent. Except as expressly modified herein, all provisions of the Humana Producer Contract and the Humana Individual Products Producer Partnership Plan (PPP) apply to this incentive program.



Newest Blog Posts | All Blog Posts