Come Join a Winning Team!
_________

At PSM, we embrace our guiding principle of 'Doing the Right Thing', which contributes to our outstanding reputation as one of the most approachable FMOs in the country. We tap into the power of our community to equip our agents with the essential resources they need to foster their growth and achieve the goals they're striving for. In simple terms, we invest in the success of our agents, building a relationship that guarantees an unparalleled experience that stands the test of time.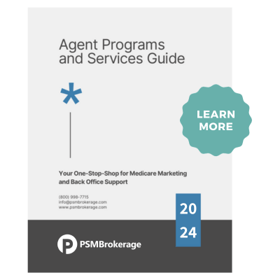 Supercharge your lead generation, skyrocket your sales, and boost your income by joining a reputable FMO that offers the unwavering support you are looking for.
Your Trusted FMO Partner Since 2006
_________
PSM is a Field Marketing Organization (FMO) and serves as an intermediary between insurance carriers and insurance agents or brokers specializing in Medicare insurance products. Our primary focus as a Medicare FMO is to support and assist agents in selling Medicare-related insurance plans, which include Medicare Advantage (Part C) plans, Medicare Prescription Drug Plans (Part D), and Medicare Supplement (Medigap) plans.
Here are the key functions and roles of a Medicare FMO:
Product Knowledge: We provide agents with comprehensive information about various Medicare plans, ensuring they have a deep understanding of the options available to beneficiaries.
Carrier Contracts: We help facilitate the contracting process for agents, allowing them to represent multiple insurance carriers. This diversity of carriers gives agents more flexibility and choices to offer their clients.
Education and Training: We offer training programs and resources to keep agents informed about the latest Medicare regulations, compliance requirements, and effective sales strategies. This education helps agents provide accurate and up-to-date information to beneficiaries.
Sales Support: We provide marketing materials, lead generation programs, and guidance on effective sales techniques to help agents succeed in the Medicare market.
Commission Management: We assist agents in tracking and managing commissions, ensuring they receive compensation for the sales they make in a timely manner.
Compliance Assistance: We help agents remain compliant with Medicare marketing guidelines and regulations to prevent potential penalties or legal issues stemming from non-compliance.
Market Insights: We provide agents with market insights and data that help them make informed decisions and adapt their strategies to changing market dynamics.
PSM serves as a valuable resource and support system for insurance agents, allowing them to serve clients more effectively and provide the information and services required to make informed choices regarding Medicare plans. It benefits both agents and beneficiaries by ensuring a smoother and more informed enrollment process.