UPDATE
Starting on 6/2, SunFire will make Voice Scope and Voice Signature capabilities available, automatically, to agents on recorded calls using SunFire's Voice Recording Solution.
HOW IT WORKS
When on a recorded call using SunFire's voice recording solution, the platform will automatically remove the "Complete scope" in-person option for Scope of Appointments, and replace it with the ability to complete a compliant Voice Scope:

Similarly, when the agent clicks "enroll" they will automatically be shown our CMS-filed, compliant Enrollment Script with voice, text, and email signature options: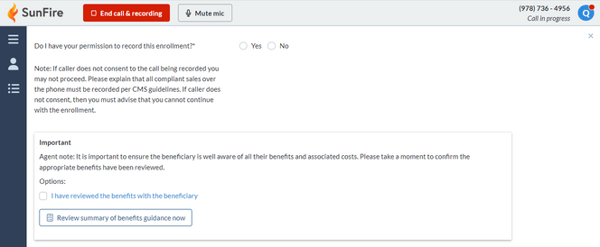 This functionality is currently only available to agents that utilize SunFire's Voice Recording Solution within our BlazeConnect field agent platform. Please reach out to your Account Manager if you have questions or feedback, or would like to enable Voice Recording for your agents.
Don't have access to SunFire's enrollment tool? Request details today.
Download the PDF here.
Newest Blog Posts | All Blog Posts