Medicare Market Competition for 2020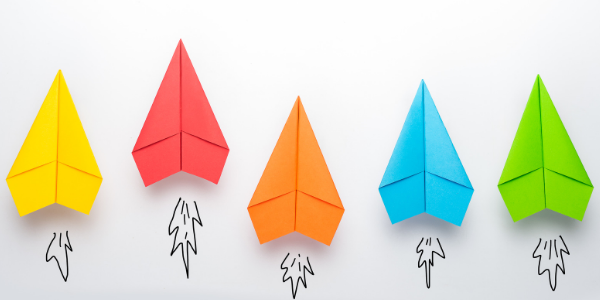 Medicare Advantage plans continue to command a sizable proportion of the healthcare industry, providing medical coverage to over 23.1 million beneficiaries. In the last three years, these plans have collectively increased enrollment by approximately 4.5 million members and currently cover 35% of the nearly 67 million people eligible for Medicare benefits. The 2020 Annual Election Period (AEP) for Medicare Advantage (MA) plans and prescription drug plans (PDPs) is underway as of October 15th.
As Medicare companies finalize sales and marketing strategies, they analyze data from Medicare Plan Finder (MPF), an online tool that makes it easy for seniors to review options and shop for new Medicare plans. Medicare Benefits Analyzer™, a Mark Farrah Associates' database, helps simplify analysis of the Medicare Plan Finder data for companies competing in this segment. This brief presents a snapshot of the 2020 Medicare Advantage market with insights from the Centers for Medicare and Medicaid Services (CMS) Medicare Landscape reports.
Overview of the Medicare Landscape
Based on an aggregate analysis of CMS Landscape reports, a total of 4,407 distinct Medicare Advantage (MA) plan offerings are in the market lineup for the 2020 AEP, from October 15th through December 7th. This includes MA plans, Medicare Advantage with prescription drug plans (MAPDs), Medicare/Medicaid plans (MMPs), and Special Needs Plans (SNPs). During the AEP, Medicare beneficiaries can choose to change MA plans or switch from Original Medicare to MA, and plan benefits will become effective on January 1, 2020.
A total of 3,534 MA and MMP plans are being offered for 2020, a sizeable increase from 3,084 in 2019. Health Maintenance Organizations (HMOs) continue to be the dominant MA plan type with 2,252 offerings, or 64% of all MA plans for the coming year. Additionally, 873 Special Needs Plans (SNPs) are available in 2020, up from 773 in 2019. Stand-alone PDPs nationwide increased from 912 plans in 2019 to 959 plan offerings for 2020.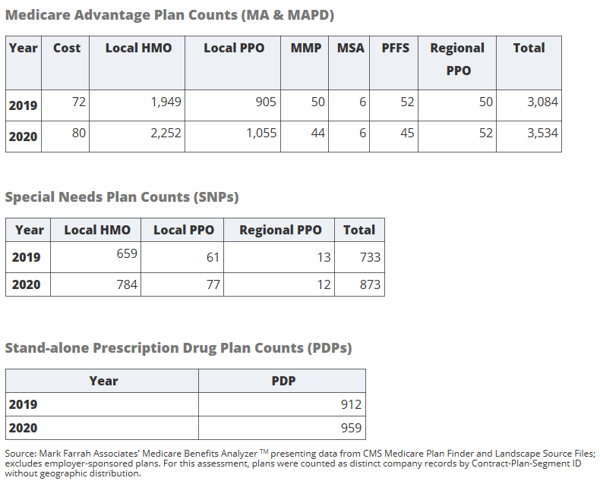 A total of 3,195, or 90% of MA plans, include Part D benefits, and total monthly premiums range from $0 to $350. Forty-nine percent of 2020 MA plans (excluding SNPs), are available at the $0 plan premium level. In addition, 26% of all plans will be charging monthly premiums ranging from $2 to $50 while 15% of plan premiums are in the $51 to $100 range. Only 2% or 59 plans are charging monthly premiums greater than $200. These benefits-rich plans typically have low copays and as a result estimated out-of-pocket expenses are often minimal.
Plan Competition for 2020
Many MA plans and stand-alone PDPs have expanded their current supplemental offerings or their coverage area for 2020. Anthem, Centene, and Humana have announced larger coverage areas for this year and Cigna recently increased its product offerings in Nashville. UnitedHealth not only gained coverage in new counties, but also recently acquired a Virginia MA plan.
According to the 2020 CMS Landscape reports, Humana will market 567 distinct plans, more MA plans than any other company nationwide. UnitedHealth continued to increase its MA plan offerings for the 2020 calendar year with 478 distinct plans identified and CVS is offering 417 plans for 2020. BCBS, Wellcare, Anthem, and Cigna also continue to have a notable plan offerings presence, respectively.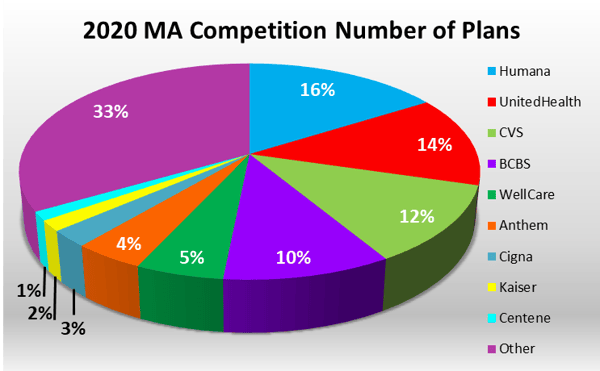 Source: https://www.markfarrah.com/mfa-briefs/medicare-market-competition-for-2020/
Additional Updates: