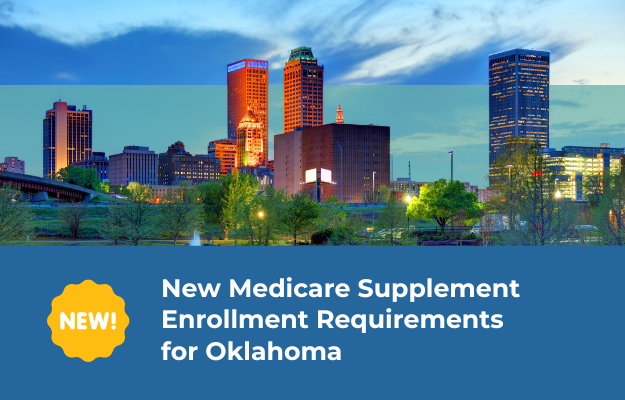 Effective September 1, 2023, amendments to the Oklahoma Insurance Department ("OID") Medicare supplement regulations create new enrollment requirements for Medicare supplement issuers.
OAC 365:10-5-129(f)
Amendments to Oklahoma Administrative Code ("OAC") 365:10-5-129(f) create new enrollment opportunities for Medicare supplement policyholders. The regulation requires Medicare supplement issuers to provide new supplement policies with the same or lesser benefits to current Medicare supplement policyholders—regardless of current issuer—who have had no gap in coverage greater than ninety (90) days since initial enrollment. Previously, these policyholders have had no opportunity after initial enrollment to move to any other Medicare supplement policies or issuers, trapping the policyholders in policies with rising premium costs and no opportunity to search for lower premium rates.
Issuers offering a new (i.e., succeeding) supplement policy shall waive medical underwriting or preexisting exclusions if the new supplement policy offers the same or lesser benefits. Issuers of the current (i.e., prior) policy are required to furnish a statement of benefits or other pertinent information sufficient to permit verification of benefit determination to any new issuer upon request.
OAC 365:10-5-129(g)
Amendments to OAC 365:10-5-129(g) require issuers of Medicare supplement policies to provide notice to individuals under the age of sixty-five (65) enrolled in Medicare by reason of disability of their eligibility for open enrollment to Medicare supplement policies upon reaching the age of sixty-five (65). Issuers must provide this notice sixty (60) to ninety (90) days prior to the first day of the first month in which the individual becomes sixty-five (65) years of age.
About OID
The Oklahoma Insurance Department, an agency of the State of Oklahoma, is responsible for the education and protection of the insurance-buying public and for oversight of the insurance industry in the state.
Questions?
If you have any questions or would like additional guidance on this topic, please call us at (800) 998-7715 and speak with one of our experienced Marketing Representatives. We will gladly assist you.
Newest Blog Posts | All Blog Posts