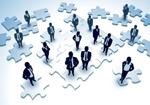 With no major developments occurring in our industry this week, we thought this would be an opportune time to update you on developments occurring here as we strive to bring our agents the best products, tools, information, and community. At PSM we not only focus on agent recruiting, but also on agent retention. As such, we want to hear from you on what we can do to help you further your business productivity, from Web site features to administrative services.
Online Contracting
Our most popular tool, online contracting from PSM dramatically improves the convenience of contracting with the competitive carriers that we represent. Now you can contract with multiple companies through an easy 3-step process that takes about 10 minutes and only requires a 1-page fax. Find out more
Med Supp by Phone
Ever wonder how the top producers do it? Its simple - they leverage the latest technology to service a national market. Through a combination of old and new (phone and internet), top producers are selling Medicare supplement products from the Mutual of Omaha companies throughout the United States without ever leaving their offices. Let us show you how
UnitedHealthcare Med Supp & Med Adv Now Available
PSM is proud to now offer what is arguably the most popular medicare supplement product from the nation's leading, senior-oriented non-profit organization. This product is underwritten by UnitedHealthcare, one of the biggest and most stable insurance companies on the market. Tell me more
Poll of the Week
We're really excited about his one. Ever wonder just how many agents think the same way you do on a particular controversial issue? Well now you can find out with our new Poll of the Week feature. Each week we will pose a question or topic that you can vote on. Every Friday we will calculate and post the results from the previous week's poll, as well as post a new poll question. You also have the option to comment on your vote if you feel the need to elaborate on how you feel on a given topic. I will post select comments along with the results. Take me there
Hot or Not Industry News
Yet another cool feature, we now have a page that links to the latest, most relevant news articles on the Web. Additionally, you can vote on each article, as well as make comments. Your votes will either push a given article up or down on the list. Articles will be ordered in terms of popularity. Since our blog is focused only on the biggest industry developments each week, we have added this feature to bring you other recent developments that you may find informative to read about and comment on. Let me vote
Social Media
PSM is now on the three major social networking sites LinkedIn, Facebook, and Twitter. In addition to our company page, we have also created the Senior Insurance Agents Group on both LinkedIn and Facebook. This is a great way to directly communicate with other agents throughout the states and to show your affiliation with the insurance for the exploding senior market.

LinkedIn Senior Insurance Agents Page
Facebook Senior Insurance Agents Page
New Partnerships
When a particular service to our agents falls outside our scope of business, PSM partners with the best companies.
Continuing education credits are a necessity for our agents, so we've joined with 360Training.com to give our agents a discount on online CE courses. Now you can get your CE credits from wherever you have an internet connection. I want to learn more
Lead generation is yet another high-demand service. As such, we have partnered with multiple companies to offer discounts and competitive pricing on an array of lead generation products and services. We are proud to announce our newest partnership with The Directory, Inc., a company that has a wealth of experience, many satisfied customers, and an informative Web site. Let me check them out
Incentives are key in motivating our agents to maximize the potential of the senior market. Despite the current recession, where others are cutting costs, PSM continues to invest in its agents by rewarding superior performance. This time we've partnered with Mutual of Omaha to offer an amazing, 4-day port of choice cruise for agents that place $63,000 in premiums with any of the Mutual companies between May 15 and August 15. For more information call 1-800-998-7715.
Blog Views
Considering our blog has only been live for about 3 months now, we are proud to say that each week we average about 800 page views and are continuing to see growth as word spreads. So for those of you wondering whether anyone reads your comments, well, now you know your potential audience.
Last Thing (We Promise)
In observance of Memorial Day, PSM will be closed on Monday, May 25. Have a great three-day weekend, and thank you for tuning in each week. We hope you find our blog posts to be both informative and intellectually stimulating.