Medicare Open Enrollment Period (OEP)
is Back for 2019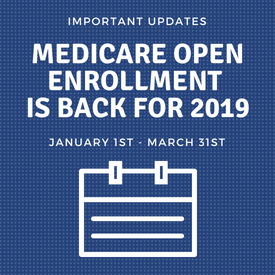 Starting January 1st, 2019 there will be an Open Enrollment Period that will allow Medicare beneficiaries to make "like plan" changes until March 31st, 2019. This is not just an extension of AEP which is between October 15th and December 7th each year. The AEP dates remain unchanged.
The new OEP will allow clients to dis-enroll from their current plan and switch to a different Medicare Advantage plan one time only. They can also dis-enroll from an advantage plan and go back to Original Medicare and then purchase a supplement and/or a PDP.
Just like with the MADP, they can only enroll in the PDP plan if they had drug coverage with the MAPD they dropped. The effective plan dates will be the first of the following month after the client's signature date.
Below is an example of the criteria for allowed changes:
MAPD to MAPD
MAPD to Original Medicare and a Part D
Original Medicare and a Part D to MAPD
MA Only plan to MA Only plan
MA Only plan to Original Medicare
Original Medicare to MA Only plan
Some may see it as an opportunity and others as a bother. Nevertheless, prepare yourself and your clients and you should be able to navigate the new OEP with ease.
If you have any questions or need assistance in getting appointed with our leading Medicare Advantage and Part D companies, call us today and one of our knowledgeable marketers would be happy to assist.
Disclaimer:
The Centers for Medicare and Medicaid Services (CMS) is still working through guidance on how the new election period will run, including marketing rules. The above is a synopsis of the OEP as it existed in the past and these details/rules are subject to change. We will do our best to provide more details when the final guidance is released this summer.
Review the full legislation here.
Additional Updates: