Medicare Blog | Medicare News | Medicare Information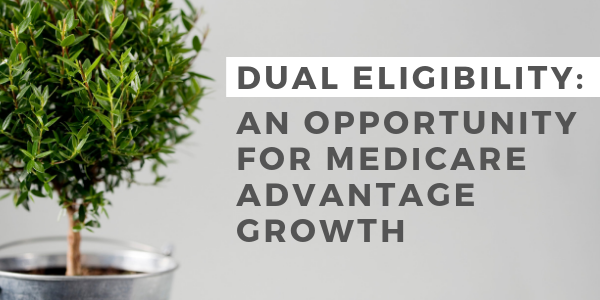 As Medicare Advantage continues to grow, payers, experts, and states are looking for ways to boost dual eligibility enrollment.
Enrollment of dual eligible individuals in Medicare Advantage has been "lagging" even with MA numbers projected to hit 70 percent between 2030 and 2040, according to a recent analysis by LEK Consulting.
"Medicare Advantage penetration of dual eligibles, which represents roughly 20 percent of Medicare eligibles, has lagged behind Medicare Advantage penetration of seniors due to a lack of coordinated state offerings and managed care," the authors of the report state.
Medicare Advantage is an overlooked resource for many dual eligible individuals, who qualify to enroll in Medicare and Medicaid because of their income. LEK Consulting's estimate of a 70 percent increase in Medicare Advantage enrollment between 2030 and 2040 is backed by the rate at which MA is penetrating urban and rural counties, several of which have reached 55 to 65 percent enrollment. In 14 of the top 20 counties, the rates keep rising.
The dual eligibility population could prove critical to Medicare Advantage's growth.
Medicare Advantage presents dual eligible individuals with an option that is affordable and has the ability to "detect, treat, and prevent the progression of chronic disease," according to a report by America's Health Insurance Plans.
Similar to AHIP's report, the LEK analysis found that Medicare Advantage enrollees are drawn to MA largely because of affordability and the level of care they receive through the plans.
For many over 65 years, the 20 percent coinsurance is too high, especially as Medicare costs are projected to rise by 7.4 percentage points annually through 2027, the CMS stated.
Additionally, Medicare Advantage provides a superior level of care management over original Medicare as the probability of developing age-related conditions increases. The conditions include obesity, diabetes, and other chronic conditions.
Between 2009 and 2010, 45 percent of adults 65 years and older have two or more chronic conditions the Center for Disease Control (CDC) revealed in a study of nine chronic conditions. The LEK analysis adds that the number of adults with more than one chronic condition rose by 8 percentage points during that study.
Dual eligibility beneficiaries are affected by those statistics. In March, the CMS released a report on the dual eligible population, which concluded:
60 percent suffer from more than one chronic condition
49 percent have long-term care services and supports (LTSS)
41 percent have received at least one mental health diagnosis
17 percent report "poor" health status
Though dual eligible may be lagging, "states are moving aggressively to manage the cost of this high-needs population," LEK Consulting states in their analysis.
In particular, the report cites the escalation of Dual Eligible Special Needs Plans (D-SNPs). D-SNPs have increased by 10 percent per year.
However, misalignment between D-SNPs and Medicare and Medicaid timelines and processes can put unnecessary strain on beneficiaries.
The Department of Health and Human Services (HHS) recently posted a paper from 2017 by the Center for Health Care Strategies which offered potential solutions in six areas related to D-SNPs: network standards and reviews, care management, marketing, beneficiary and provider notices, data collection and quality measurement, and grievances and appeals.
They conclude with 23 policy options, such as HHS-state collaborations for non-emergency medical transportation, integration of MA and state care management requirements for D-SNPs, coordination between states and D-SNPs on outreach, integration of beneficiary and provider D-SNP materials, DSNPs receiving beneficiaries' Medicaid or Medicare service utilization history, and MA denials that disclose whether a beneficiary denied by an MA plan might still acquire coverage under Medicaid.
Payers are responding to the growing demand for Medicare Advantage. Established payers such as Anthem are acquiring companies with MA plans while their emerging counterparts—Bright Health, Devoted Health, and Clover Health—are expanding their MA plans or are starting to offer them.
Source: https://healthpayerintelligence.com/news/dual-eligibility-an-opportunity-for-medicare-advantage-growth
Image: Canva
Additional Updates:
Tags: Medicare Advantage, Dual Eligibles