Medicare Blog | Medicare News | Medicare Information
YourMedicare Enrollment Center Updates - All Plans Now Available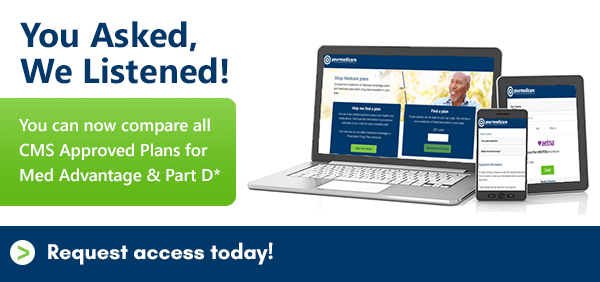 UPDATE:

YourMedicare Enrollment Center has been updated to reflect all CMS approved Medicare Advantage and Part D plans*. You will now have full transparency on the markets you serve. This update will automatically be reflected next time you log into the portal and will display the 'All Plans' view as the default view on the agent's results page.
If you are already registered, you can log in here.
Not registered yet?
With our all-inclusive platform, you can sell Medicare plans on your terms. Offer top carriers, receive the best commissions, all on a vested contract with industry-recognized service and support.
The YourMedicare Enrollment Center™ offers:
A

ccess to quoting and enrollment for the industry's leading Medicare

Advantage and Part D carriers. All CMS compliant.

Ability to store your client prescription drug details.

Electronic Scope of Appointment.

Multiple signing options including a new text to enroll feature.

Dashboard to manage your submissions and check status.

Training video library with instructional guides.

Freedom to sell when and where you want.
This comprehensive tool simplifies the sales process with multi-carrier shopping and enrollment platforms wrapped into a single online experience. And best of all, this platform is available at no cost to PSM agents.
Request details today and make sure you have access to this cutting edge technology at your fingertips.
*Kaiser Permanente is not included in the update
Tags: Medicare Advantage, Medicare Part D, Enrollment Tools, YourMedicare, SunFireMatrix