Medicare Blog | Medicare News | Medicare Information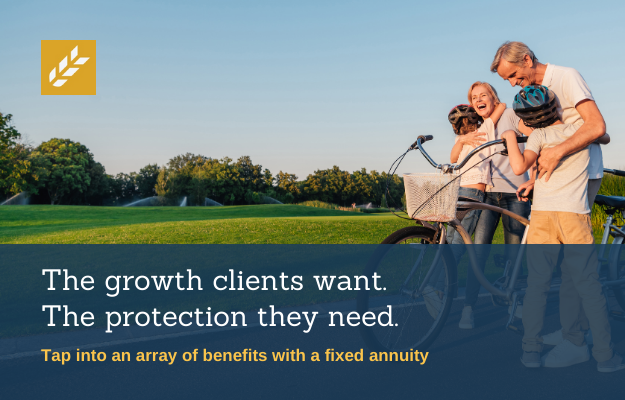 A Safeguard Plus® MYGA from Farmers Life Insurance Company is a single premium deferred fixed annuity that offers predictable interest earnings for a specified
time period.
Regardless of their savings timeline, clients can also benefit from:
Protection from the market's ups and downs

Tax-deferred growth

Competitive interest rates that are locked in for the term they select

Potential to leave a legacy to loved ones at death

The opportunity to turn the asset into predictable lifetime income

The ability to customize the policy for greater protection from life's "what ifs"2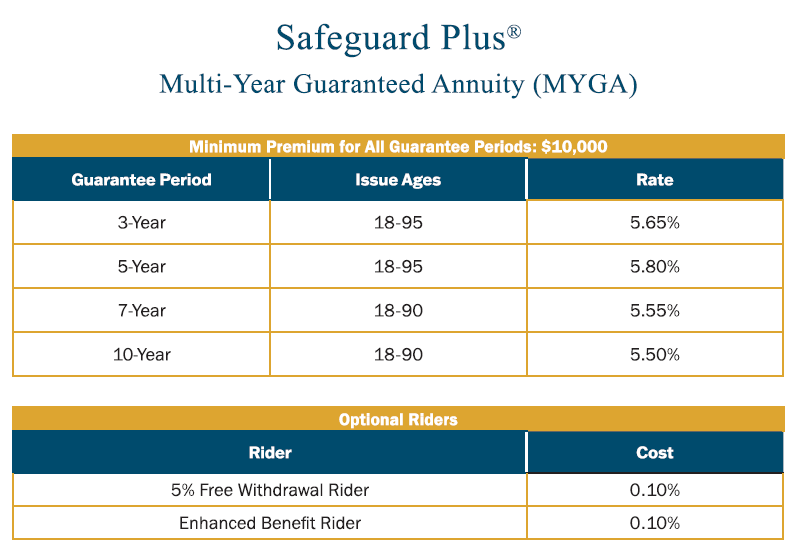 Download Rate Sheet Effective 10/16/23
Rates subject to change. Years referenced are contract-year terms.

Now's the perfect time to talk with clients about how their secure savings assets are performing and to determine whether a Safeguard Plus MYGA can help meet their growth goals sooner.


---

FOR AGENT USE ONLY. NOT FOR USE WITH THE GENERAL PUBLIC.
1 August 2023 current CD rates, available on bankrate.com
2 Election of one or both optional riders may reduce crediting rates set forth in the contract.
These are products of the insurance industry and not guaranteed by any bank, nor insured by FDIC or NCUA/NCUSIF. Not a deposit. Not insured by a federal government agency. Restrictions apply. May only be offered by a licensed insurance agent.
Guarantees are based on the financial strength and claims-paying ability of Farmers Life Insurance Company. Policy form numbers and product availability vary by state.

Policy ICC21-FLIC-CON; Riders ICC21-FLIC-FWR, ICC21-FLIC-EBR.
SP220010AFL (8/23)


For Agent Use Only.