Prosperity Life Medicare Supplement Plans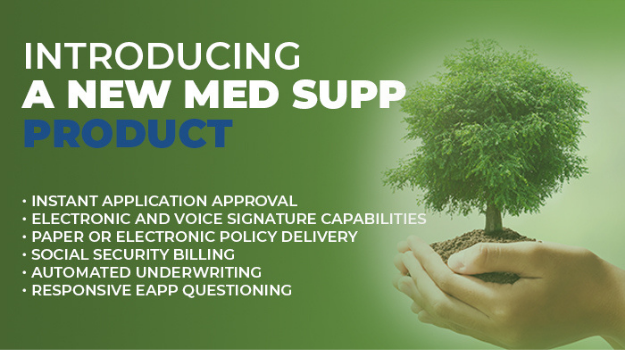 Introducing a "NEW" Medicare Supplement product from Prosperity Life Group. Designed with Innovation, Protection, and Excellence in mind, give your clients the protection they deserve.
With Competitive Rates, Instant Decision, Automated Underwriting and voice signature capabilities, securing Medicare Supplement coverage for your clients have never been easier.


eApp Technology Highlights:
Instant Decision | open enrollment applications are processed and issued instantly.
Responsive eApp Questioning | answer the only questions needed to help accelerate automated underwriting.
Automated Underwriting | a powerful underwriting engine automatically processes underwritten applications to generate a decision at the completion of the application process.
Paper or Electronic Policy Delivery | choose paper or electronic policy delivery.
Electronic and Voice Signature capabilities | with multiple signature capabilities, choose the option that works the best for you and your clients – electronic, voice or email capabilities available.
Social Security Billing | clients can

choose to have their premium paid on the same date

that their Social Security check is deposited.

Company Description
Prosperity, through its member companies, Shenandoah Life Insurance Company, SBLI USA Life Insurance Company, Inc. and S.USA Life Insurance Company, Inc., is a leading provider of protection, supplemental and asset accumulation products distributed through banks, independent marketing organizations, managing general agencies, career and worksite channels.
Meeting financial promises to our customers through financial strength and stability is paramount to everything we do and is evidenced by an A­- (Excellent) A.M. Best financial strength rating. We proudly service more than 300,000 policies with over $15 billion of life insurance inforce. Prosperity had $2.5 billion in assets as of 2017 YE and generated $34 million in after-tax statutory earnings in 2017.


Prosperity Medicare Supplement Highlights:
Competitive rates nationwide
Excellent commissions with increased commissions on Plan N
Commissions paid on Part B Deductible
Paperless e-application process - No Wet Signature Required
Voice Signature option available
Clean cases issue in 2-4 days
Daily advances available


Product Description
Medicare Supplement Insurance also known as Med Supp or Medigap, is insurance to help pay for the out-of-pocket cost that are not covered by Medicare. We can answer your questions and show you how our Medicare Supplement product can help ensure you have sufficient benefits to meet your needs.


Disclosure:
Product issued in New York by SBLI USA Life Insurance Company, Inc. (New York, NY) in Mississippi and certain other states by S.USA Life Insurance Company, Inc. (Newark, NJ), and Shenandoah Life Insurance Company (Roanoke, VA) members of Prosperity Life Group. Not available in all states; features may vary by state. All guarantees are subject to the financial strength and claims-paying ability of the issuing company.
For Agent Use Only