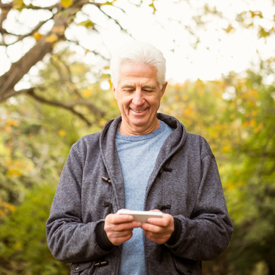 Getting Connected: Older Americans Embrace Technology to Enhance Their Lives
Most Americans have embraced technology in their daily lives and those over 50 are no exception. Results of a new survey by AARP show older adults are using a variety of devices to stay informed, shop and connect with others.
Over 90% of adults over 50 own a computer or laptop, 70% have a smartphone, and over 40% own a tablet, according to a national study of 1,520 adults conducted in November. Adults 70+ are more likely to have more dated technology, such as desktops and feature phones, than those age 50-69.
Want to know what the grandkids are doing? Check on Facebook. Sure enough, across all devices, over seven in ten adults 50+ are on social media, and nine in ten (91%) of those with devices say they use technology to stay in touch with friends and family.
Different devices for different purposes
Smartphones help people be social while they are on the go. Over half of smartphone owners use a social app weekly. Texting (86%) has caught up to email (87%) as the top ways people use technology to communicate with others.
Among adults 50+, nine in ten say they use their smartphone to send instant messages, texts or emails, and over three quarters find them handy for getting directions or traffic information. They also use them for purchasing apps, surfing the internet, getting news, and accessing social media, the AARP research found.
Just how adults use technology varies by age. Adults 50-59 are more likely to do banking activities and watch video on their smartphones than those who are over 60. However, smartphone users age 60-69 are leading the way in using their phone to manage medical care (they are significantly more likely to do so than those over 70: 33% vs. 21%).
Respondents report using tablets more for entertainment and computers for practical tasks. Adults in their 50s and 60s use their computers to engage in online learning activities and posting ratings and reviews more frequently than those older. Further, Americans over 70 do fewer activities on their computers than those under 70, with a couple exceptions, including gaming (over half play games on their computer) and email.
When it comes to wearable technology (smartwatches, fitness trackers, etc.) and home assistants, just a small percentage of the 50+ market are on board. Younger adults are more likely to own a wearable than those over 70.
Wary of security and virtual reality
In spite of the reliance on technology in many realms of life, just 18% of adults 50+ are extremely or very confident in their online privacy. Four in ten (41%) are not very or not at all confident in their privacy. Those over 70 are more skeptical their information is private online than those aged 60-69, the survey finds.
Most older adults do not completely trust companies to keep their data secure. The survey discovered respondents have more confidence in banks and health care organizations and less trust toward the media, social media sites, and membership organizations.
Despite security concerns, however, the survey found many older adults don't take proactive steps to protect themselves (although men are more likely to do so in several instances). Overall, just 58% of respondents say they use a passcode to lock their tablets and 59% use one on their smartphones. And changing passwords every few months? Just 45 percent of adults 50 and over take that security precaution.
Few older adults have used virtual reality, and many are unfamiliar with augmented reality. Most respondents had heard of virtual reality devices but few have tried them. Adults age 50-59 are the most likely to have checked out or own a virtual reality device, but adoption is still small. Over six in ten adults in the survey have never heard of augmented reality and very few have tried it -- although awareness was greater among those in their 50s.
This study was fielded from November 16-27, 2017 using GfK's KnowledgePanel, a probability based web panel designed to be representative of the adult US population. Respondents needed to be age 50 or older to complete the survey. Completion rate was 59.9% and resulted in a total sample of 1,520. The data are weighted by age within gender, education, race/ethnicity, household income, language preferences, and Census division to reflect US adults age 50 or older. For more information contact G. Oscar Anderson at GAnderson@aarp.org.
At PSM, we provide the tools, knowledge and support to help take your business to new levels. If you have an interest on how to effectively sell online, we would love to assist you.
Source: https://www.aarp.org/research/topics/technology/info-2018/technology-use-attitudes.html
Additional Updates: