⍟ Get the Tools you Need to be Efficient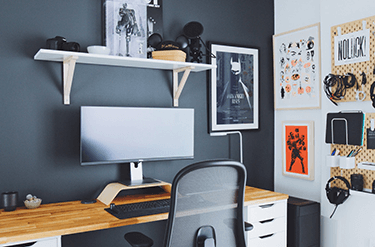 Quality Computer. Nowadays laptops are powerful enough to run just about any software you could find.

As an Insurance Agent it's unlikely you will need the most powerful computer available. Laptops offer enough power to do what you need and you'll have the flexibility to take it with you as needed.

Avoid buying the lower end laptops if possible, as they are much more prone to issue like freezing or the dreaded blue screen of death. They simply aren't made to last.

When running a business, your time and the information you store is valuable. Don't waste your time and risk losing the information you store on your computer by purchasing a dirt cheap laptop.

Purchase from a well-known name brand. You will get a higher quality and a better warranty which will payoff if you have mechanical issues. The time and head ache that can come from going cheap on a computer will hurt your bottom line and your sanity.
If you are comfortably working on the laptop monitor go for it, but there are better ways. Just because it's a laptop doesn't mean you can't have a comfortable sized monitor to use.

There are a number of tools you will need if you are planning on working from home. There are also a lot of accessories that may help improve your work flow and productivity.

Let's take a look at some of the more important tools and accessories.


Docking station. A docking station will allow you to connect your laptop to other accessories, such as a larger monitor external speakers, mouse, keyboard etc.

This will give you the functionality of a full size desktop, with the flexibility to disconnect your laptop and move to a different spot if you need to.

Full sized keyboard. A full sized keyboard is usually more comfortable and ergonomic than a laptop keyboard. This will come down to personal preference, but is a very inexpensive way to gain efficiency, and work in a more ergonomic position.

Headset. Making sales calls is hard enough without missing parts of a conversation. There are many good quality brands to choose from. You don't need the most expensive headset, but don't settle for the least expensive either.

The quality of your audio is probably the most important factor for an agent working from home. You could get away with using inexpensive camera, or even your iphone for video, as long as you audio is crystal clear.

This is a better scenario than having a great camera but terrible audio. At the end of the day, your customers, above all else need to hear you clearly.

Webcam. Hopefully you'll be looking at using video calls as well as phone/audio calls. The rising popularity of video makes it an acceptable communication method for business.

Technology has brought the price down so that a good quality (HD or better) cameras are inexpensive and plentiful. An important point to remember when it comes to video cameras is the lighting of the space you will be recording in.

With proper lighting a bad camera may look good and a good camera might look great. If your space is a bit dark consider additional LED lighting to give you the proper lighting. It will be worth every penny. If you're going to bother with video then you have to pay attention to the lighting.

A window is a great source of free lighting. Natural light will go a long way in helping your customers see you clearly on a budget. If you can, set yourself up so that you are facing the window and your lighting should be fine.

Larger Monitor. More screen real estate means you can have multiple windows open at the same time and therefore have access to more information quickly.

Get the largest monitor you can reasonably fit in your work space. You will rarely find yourself wishing for less screen size.

If you have a laptop this is even more important. Most laptops will have the ability to connect a monitor directly. If this doesn't work for you, then you can use a docking station to get connected to a monitor, and many other laptop accessories.

External Speakers. Not necessary, especially if you're using a headset, but if you like to work with background music they are inexpensive and may be worth your while.

Printer. If you plan on doing little printing, then it may not matter too much which printer you get. Most are wireless now, so you can hide it in a different room if you're tight on space.

If you plan on printing documents, especially contracts, then you might want to look into something a little more substantial, maybe even a laser printer. It can be a time consuming task to wait on an inkjet printer to print multiple page documents every day.

When shopping for a printer don't forget to check the price of ink before your purchase. Also be sure to look at the amount of ink the cartridges hold so you can compare apples to apples. Some printers seem like a great deal, until you figure in the cost of the ink compared to other printers.
Adjustable Chair. The type of chair you use is probably more important than your choice of desk. With an adjustable chair you can conform to sitting at a variety of desk sizes with the same chair. It is worth spending money on a chair that offers ergonomic adjustments, including back support, seat and arm height and other adjustments.

Stand Up Desk Converter. Stand up desk units come in all sizes, shapes and price points. Along with the chair this is one of the pieces that can have the most positive affect on your health.

Being able to stand while working will make a big difference in your overall health and your energy level throughout the day. Sitting most of the day has a greater chance of making you feel tired and lethargic.

Being able to stand when you feel the need allows you to stretch and change positions, bringing a number of health benefits.

Related: How To Decide What to Write On Your Insurance Blog