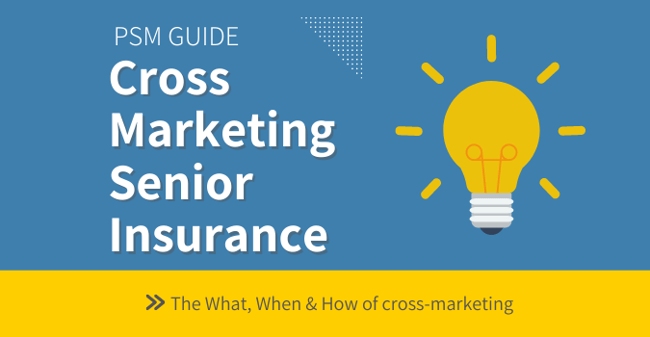 Cross Marketing Senior Insurance
I was talking to an agent recently and he asked me how he could increase his revenue, aside from just selling more Medicare supplement policies. Before I could even answer, he immediately followed up with another question:
"Oh yeah, and how do I increase my customer retention?"
Well, the good news is, the answer for both of those questions is actually the same answer. – Cross Marketing. Cross marketing is obviously going to increase your revenue, we know that. It increases product sales, which equates to more commissions, and equals more revenue.
But, that's not all cross marketing will do.
It will also increase your customer retention, which also means more revenue. You have more customers on the books, you'll make more money, and studies show that if your customer has at least three or more products with you as their agent, they are exponentially more loyal to you.
They're not going to let some other agent come in their house mess up all the work you've done. They trust you, obviously, or they wouldn't have done business with you three times in the first place.
So yes, cross marketing means more revenue, more retention, and ultimately more growth so let's talk about the what, the when, and the how of cross marketing.
What to Cross Market
What we cross market is often dictated by what our lead product is. For example, if we're leading with Medicare supplement or Medigap policies, generally, Dental Vision Hearing, Prescription Drug Plans, and maybe a life product like final expense, or even annuities are usually our biggest cross-market opportunities.
If it's not a Med Supp, maybe it's a Medicare Advantage plan, then it's more likely to be Hospital Indemnity, Home Healthcare, and Critical Illness type products.
So, that's what we're going to cross market, but when are we going to sell it?
When to Cross Market
When we cross market usually depends on where the client is in the customer journey. I'm usually of the opinion that the best time to do it is when you already have them on the phone.
If that's not an option, then you can certainly do it post sale as well.
If we're cross-marketing post-sale we're going to rely on technology that will mine our database of customers in our book of business so that it can identify the best cross marketing opportunities, and then we can develop a campaign.
How to Cross Market
Finally, how we cross market. Well, that is dictated by when we cross market. So, if we're cross marketing at point of sale then we're going to have to develop proper scripting and help properly train our agents so they can better present a package of products in a single presentation.
In this scenario, we're not presenting the individual products that we're trying to add on, we're presenting a package of risks and benefits. Through the discovery process we'll learn to package in the products that resolve those risks to the client's satisfaction.
Again, if we're cross-marketing post-sale, we're going to rely on technology to help identify cross marketing opportunities, and then we can develop the campaign.
Maybe an automated campaign, for example, through email or text, or direct mail, that will help generate inbound leads from our own book of business.
Alternatively, you can always just pick up the phone call your client to check up on them, and bring up some of the added value that you can bring to them by helping resolve or tighten up more of the risk that they might still be exposed to.
Ultimately, cross marketing will help you increase your revenue and your retention, and I think the key is to not over think it.
If you're a newer agent and you really haven't figured out how to cross market, start with one product and then add that into your presentation point of sale, or post sale, you pick.
For example, if your most of your book is Medicare Advantage business, I would pick one lump sum cancer product and start adding that into my pitch, and start talking to people about it. The more you discuss it, the more likely you are to sell one, right?
It doesn't have to be complicated. Talk to people about the product, you will sell it, and then you'll get a taste for cross marketing and get more comfortable with it.
The next thing you know you're adding more and more products, and your clients are reducing their risk at the same time.
So take advantage of the win/win aspect of cross marketing.
A Cross Marketing Success Story
I'll give you one great example. An agent friend of mine recently added one product to his portfolio. He was selling Medicare supplements and wasn't putting any effort into cross selling at the time.
He took my advice and simply added dental and vision to his sales pitch.
The rest of that year he increased his commissions by 37 percent!
It's not rocket science, you just have to add a useful product and talk about it. You will sell it to a percentage of your clients.
If you're struggling with cross marketing, give us a call here at PSM. Talk to one of our experienced marketing staff. we can help you not only figure out what products you should be cross marketing, but how to bundle them, how to package them into a proper presentation, and how to market post sale.
We can definitely give you some ideas that you can implement and get started right away. So, feel free to give us a call.
We would love to hear from you and about your business, maybe some of the challenges you might be facing, and that way we can dig in and help you resolve them.

Looking for more helpful resources? Visit our Guides Page.

We appreciate you taking your time to check this out, and we wish you the best of luck.
-
"Cross-selling occurs when an opportunity to sell a Medicare plan is also utilized to sell a non-health related product (such as life or home insurance or financial planning services). This activity is prohibited by CMS during individual appointments, marketing/sales events or when providing Medicare plan enrollment materials to consumers. Review the current Medicare Advantage Marketing Regulations and make sure you're complying with Medicare's rules regarding cross-selling."