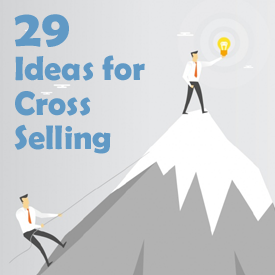 Now is a great time to think about some cross-selling ideas you can implement with your current clients and newly acquired ones.
Whether it be Hospital Indemnity, Final Expense, or maybe even Dental or Cancer Insurance, there is an array of opportunities to help better protect your clients while earning additional revenue.
Below are some great ideas to consider when cross-selling.
29 Ideas to Cross-Sell More Insurance to Current Clients


1) Know the Two Types
Did you know there are two distinct types of Cross Selling situations?
Prospects who already own the product - These people already bought the coverage from a competitor but you're trying to get the business with your agency.
The key with them is repetition, collecting the x date, good follow-up and selling the benefits of your agency.
Prospects who DO NOT already own the product - These people don't currently have the type of coverage you're trying to sell them.
The key with them is product awareness, education, creating a need, identifying interest, and then selling.
These aren't complete opposites, but they do require different approaches and sales tactics.
If you're currently treating all cross-sale prospects the same, take a few moments to think about how each one requires a different approach and how you can address it best.


2) Develop an Established Cross-Selling System
It's great if you read my articles and get a few ideas to implement here. That's why I write the darn things.
The trouble is that most agents "think" they're going to use a few new ideas, some of them really do, but very few make changes to the procedures and systems they use in their agency to make process improvements last.
The only way to create lasting success is to establish formal systems for processes in your agency like cross selling.
And this article is the perfect resource to help you put something like that together. Use it and do it!
You don't have to write a manual, just make a list of what you want to do in each of the most common situations and share it with your staff.


3) Identify the Target Product(s) For Each Customer
Assuming your agency doesn't specialize in specific lines of insurance, there are probably at least 4 different products that each of your customers could also buy from you.
And there are probably a bunch more that aren't even relevant to each client.
Find a way to prioritize the best products to cross-sell each client and get this information front and center for your sales and customer service folks.


4) Establish a Tracking System
If your plan is to remember which products are the best cross-sale opportunities for each client, or to just always cross-sell the same one or two lines to everyone you're not cross-selling efficiently.
Ideally, you'd be able to pull up any of your client's accounts and see, at a glance, what products are the best cross sale opportunities for them. Having information like this top of mind when you're looking at a client's account will make a huge impact in how often your salespeople bring up the cross sale conversation.
In addition, it's also great if you could pull up a list of all the clients who are prospects for each type of insurance. This is helpful for email, direct mail, or other campaigns that are oriented around awareness of your different product lines.
While we're at it, you're also going to need a way to keep track of X-dates for each month.


5) Handle Immediate Needs First
Be careful not to push cross-sales too hard during an initial sale.
It's fine to plant seeds, but your prospects aren't remotely interested in buying a second product from you until they know you can take care of the first one.
I've witnessed a lot of agents pushing too hard for additional lines when it's clearly obvious the prospect only has one thing on their mind.
Respect your prospect, listen to your prospect, and put their immediate needs first.
Source: http://www.insurancesplash.com/blog/cross-selling-tips/
Additional Updates: