UnitedHealthcare Short-Term Medical Insurance
Company Description
UnitedHealthcare is dedicated to helping people live healthier lives and making the health system work better for everyone. We serve millions of people from their earliest years through their working lives and through retirement.
Bridge the gaps in health insurance coverage
Short term health insurance, underwritten by Golden Rule Insurance Company, is a flexible health insurance coverage solution when you need coverage for a period of transition in your life.
Benefits of Short-Term Health Insurance Coverage:
Short term health insurance offers you just the kind of flexible, fast coverage you need for those dynamic times of change in your life. With short term medical plans you can:
Get covered fast, as soon as the day after application
Pick your deductible amount from several options
Pick your length of coverage, 1 to nearly 12 months in some states2
Drop coverage with no penalty if a more permanent health insurance option comes along
You may be able to apply for another short term health insurance plan when the first one finishes, if needed3
Access an extensive network of health care professionals, with 1.4 million physicians and other health care professionals and approximately 6,500 hospitals and other facilities4
Get generally lower premiums than with ACA health insurance plans
UHC Commitment: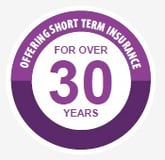 The UnitedHealthcare commitment to the short term health insurance option hasn't just come about with recent shifts in the health insurance market. Golden Rule Insurance Company, which became a part of UnitedHealthcare in 2003 and still underwrites the short term medical insurance product today, has been offering short term insurance plans for over 30 years.