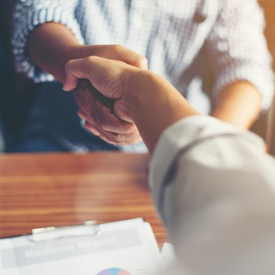 Independent Agents Hold a Significant Advantage over Insurtech Startups
Insurance agents can provide something their insurtech rivals cannot: a human touch.
Independent insurance agents don't need to fear that they'll be replaced by insurtech startups powered by artificial intelligence. Recent studies reveal that insurance customers still want to talk to a live agent, especially when they need to file a claim or buy a complex product.
According to a recent survey conducted by insurance technology provider Vertafore, 60% of nearly American consumers worry that an AI-generated insurance purchasing process might automatically reject their coverage request, even when a human agent would likely give them a policy. Even tech-savvy Millennials shared this concern, with nearly 50% claiming that they'd prefer to buy an insurance contract from a live agent.
These findings are no surprise to Vertafore's Chief Sales and Marketing Officer BJ Schaknowski. Speaking at recent conference, he stressed that since insurance is a complicated subject, people feel more confident speaking to someone who can guide them to the "right protection for their family and business." The Vertafore survey is all the more evidence that independent agents can still compete with insurtech startups.
Build Relationships through Technology
As the Vertafore survey indicates, consumers overwhelmingly prefer human interaction when buying insurance, as 72% said they were turned off by the prospect of purchasing it with a chatbot. Insurance agents, however, cannot ignore recent technologies that are rapidly transforming the industry. Prospects and clients expect a user-friendly and robust web presence, complete with digital portals that enable them to search for information, submit payments, or handle basic inquiries.
Rather than resist these services, successful agents utilize the latest technologies like online lead generation systems, automated email and marketing campaigns, and AI-powered programs to engage with clients and prospects more regularly than ever. In other words, they use technology to cultivate a deeper relationship with their clients — not as a vehicle to offload all customer service functions to a digital system. When an agent responds to a client's comment on Facebook or Twitter or through a text, he or she is doing so as a human — not a bot.
The challenge for independent agents in today's tech-driven world is to set themselves apart from their insurtech rivals by providing a human touch — even when that human touch comes through technology. It's what clients and prospects alike want and expect.
Additional Updates: