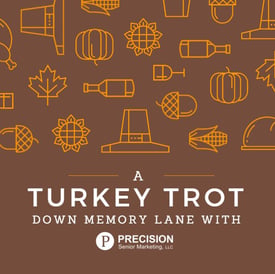 It is a much talked about fact within the PSM office that we work with the nation's greatest senior market insurance agents. The successes of our agents are our number one focus and everything we do is conceived and designed to best serve them.
With that being said, we could not express our gratitude enough for our agents this Thanksgiving holiday. Just eight short years ago, working with 1,000 agents was a glimmer in our mind's eye. Today, we're proud to have reached a milestone of working with 15,000 agents and are incredibly thankful for each and every one of them.
This Thanksgiving holiday, we want to take a moment to express our extreme gratitude and heartfelt thanks in a big way.
PSM was started with one simple goal: to meet the distribution, marketing and administrative needs of independent senior market insurance agents on a national scale so that their businesses could continue to flourish. Through our upcoming expansion with the addition of five new Marketing Directors and two Administrative Assistants, that goal has not changed. With every product improvement, new product release and every offering in between, we have been and continue to be laser-focused on making sure that the tools we provide our agents with will ultimately help them grow their businesses.
We're ecstatic for the upcoming 2016 year, with the growth of our business, and know that we could not have done it without our ever-growing PSM community. We are truly grateful for all our incredible agents, marketing agency partners, employees and fans.
We wish that this Thanksgiving holiday finds you with plenty of reasons to give thanks. As we celebrate our gratitude, we look forward to adding 15,000 more agents to the PSM community and leave you with one final, heartfelt thought: THANK YOU FOR BEING YOU AND FOR CHOOSING PSM!
Additional Updates: