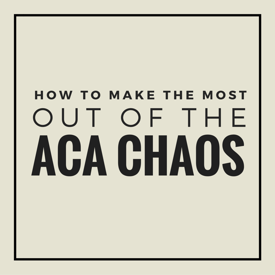 Agents who have been selling health insurance for several years – you sure have hit a series of tough speed bumps recently with all of the ACA chaos going on, haven't you? While these disruptions can certainly be scary, they can also serve unique chances to revitalize and revolutionize the way you do business.
The good news is that the Medicare market promises agents an opportunity like no other. Unlike any other market in this day and age, the T-65 market supplies 10,000+ new prospects per day. With plenty of potential clients, isn't it time that you consider introducing Medicare products into your portfolio?
Succeeding in the midst of the chaos requires proactive efforts to seek out opportunity and summon the bravery to act. To make the most of this disruption, here are some tips upon how to go about entering the Medicare market:
Connect with experts
Find a trustworthy, knowledgeable FMO who specializes in the Medicare market to do some of the thinking for you. This will help relieve you of the stress in fully educating yourself upon a brand new market and shift your perspective outside of what you do on a day-to-day basis.
Get the most out of the market
If you really want to capitalize on your investment in the Medicare market, you should take time to identify opportunities that aren't necessarily close to home. In today's day and age, technology allows for agents who live in rural communities in Wyoming, for example, to serve health insurance products to shoppers in Florida. Visit the National Insurance Producer Registry website to learn just how easy it is to get licensed in additional states.
Identify which carriers you want to represent
Contract work and commissions can vary with each carrier, so it's important to conduct some research before making any decisions upon the carriers you wish to represent. Check out online communities like Insurance-Forums and speak with agents in your local chapter of the National Association of Health Underwriters (NAHU) to get feedback and reviews on the best Medicare Advantage and Medicare Supplement carriers in your target states.
Certify to sell Medicare Advantage and PDP
If you wish to sell Medicare Advantage (Part C) or Medicare Prescription Drug (Part D) plans, a basic health insurance license is unfortunately not enough. The Centers for Medicare and Medicaid Services (CMS) requires that all licensed sales representatives, agents and brokers also complete a CMS certification program and receive certification before they can start marketing those two Medicare products. If you need help, an FMO can also help you certify to sell Medicare Advantage and Medicare Prescription Drug products.
Look to your centers of influence
The relationships you've made in the industry, whether that be with CPAs or marketing firms, are valuable sources of information. They can also serve as referral generators, so be sure to keep dialog going about trends and clients.
Keep your current clients in the loop
When you see a disruption on the horizon, communicate it with your existing base of customers and address any fears or concerns they might have. Don't forget - competitors may also be willing to leverage disruption by going after your clients, so be sure to keep them up-to-date with what they need to know to maintain trust!
Seek out inspiration and get creative
See the glass half full. Look for a creative solution to the obstacle in front of you. It may derive from an unlikely source, so never stop learning! Read the news, hire an FMO, and be open to being influenced by what people in the Medicare market may have to say.
Change will almost always feel uncomfortable. Although the ACA chaos may seem like too much to handle right now, the good news is that it's all going to be okay. Something great is right around the corner and you have to have the tenacity to seize it.
Make the most of the commotion and give one of our expert marketers a call today at + 1 (800) 998-7715 to learn more about how you can enter the Medicare market.
Additional Updates: