AUTOMATED UNDERWRITING IS HERE!
We just received confirmation that the installation of the Instant Decision Living Promise e-App will be the evening of Friday, November 16 and will be live on Saturday, November 17th at 9AM Central.

PLEASE READ FOR IMPORTANT INFORMATION!
How do you get trained?
Mutual created a training video that will walk you through the new and improved application process. The entire presentation is 21 minutes long and while it can be viewed on your mobile devices, it is best viewed on a laptop. Below is the link to the training video: https://www.brainshark.com/mutualofomaha/vu?pi=zJ9zqmkqxzkVyz0

With Automated Underwriting, you can deliver instant underwriting decisions to your clients through a faster application process.

What do I need to do BEFORE Saturday, November 17th
The iGo eApplication will be automatically updated, so you will not need to download any new software. There are some things you will need to do by Friday, November 16th at 5PM Central
Make sure any Living Promise eApplications you have started are submitted by 5PM Central on Friday, November 16th. Any eApp that is not submitted by then will be deleted during the upgrade.

Make sure you have copies of a blank application with you over the weekend. While we anticipate no problems with the installation, we do not want you to be in a jam while you are in front of a client.

To download the application packets, please visit our producer website at www.mutualofomaha.com/broker and visit "Forms and Materials" to download the appropriate application.


---

Check out the on-demand training video by clicking the link below.

Instant Decision for Living Promise® eApp (In Person Signature)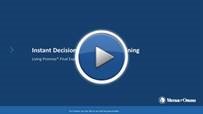 We'll notify you as soon as Living Promise Instant Decision is ready, so make sure you are! Need a quick refresher on Living Promise? Click here to view this on demand training video.
If you have any questions or would like to get contracted with Mutual of Omaha, please contact us at 800-998-7715 or go here
Additional Updates: