Consumers Concerned About the Impact of the Pandemic on Their Wallets, Study Shows

While many privately insured members expect to increase their healthcare spending due to coronavirus, almost an equal amount say they will skip their annual exam.

Coronavirus is changing member and beneficiary healthcare spending habits, including increased telehealth utilization and but lower overall healthcare utilization, a recent PwC Health Research Institute's (HRI's) consumer survey found.

The survey collected data on consumer perspectives about the healthcare landscape before and during the COVID-19 pandemic, including their use of health services and thoughts about how they will interact with the health system in the future.


Delayed doctor visits, procedures and prescriptions could have long-term impacts on health, productivity and costs
Consumers are concerned about the impact of the pandemic on their health and wallets, and are behaving accordingly. Thirty-two percent of survey respondents told HRI that they had already made or were planning adjustments to their spending on healthcare visits as a result COVID-19.

Consumers with exchange plans (45%) or private plans (50%) directly through an insurer were more likely to report that they were adjusting spending on healthcare visits (see figure).

Seventy-eight percent of consumers adjusting their spending said they would skip at least one visit such as a well visit, maintenance visit for a chronic illness, elective procedure or recommended lab test or screening.

Thirty percent predicted that their spending on healthcare visits would increase overall. Implications: Delaying procedures, reducing spending on preventive care and chronic care, and decreasing adherence to medications may have negative long-term impacts on health status, although the extent is unknown.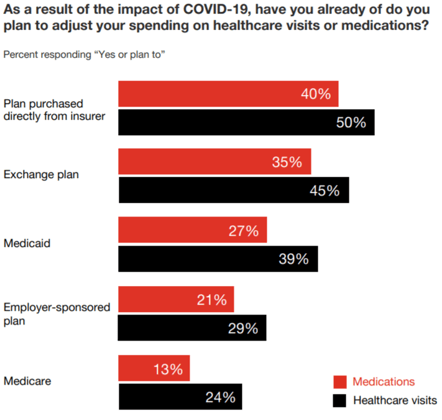 Medicare consumers more likely than others to be skipping routine visits for chronic illness, tests or screenings and electives

Of the consumers who said they already have or plan to adjust their spending on healthcare visits, the privately insured (42%) were more likely than those with public insurance (28%) to say they would skip an annual physical.

Medicare consumers were more likely to say they would skip some of their routine visits for a chronic illness or an elective procedure.

Consumers with a private plan purchased directly from an insurer were more likely (41%) than all other consumers to say they expected to increase their spending on healthcare visits.

Implications: Getting consumers to come back for care may depend on how much trust the health system can build with them over the next few months.

Helping newly unemployed consumers find insurance through Medicaid, ACA insurance exchanges and other means should be a priority for the health system.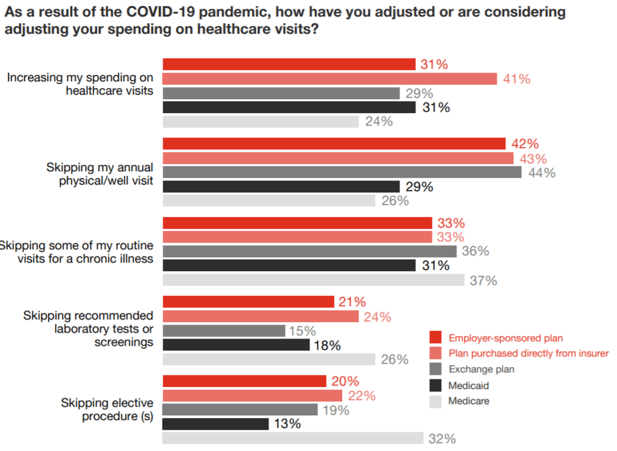 Read The Full Report:
https://www.pwc.com/us/en/library/covid-19/pdf/pwc-us-health-covid-19-survey-health-insurers_5-11.pdf