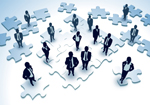 The most successful producers know that one of the keys to success is to make generating leads a strategic objective of the organization. Lead goals should be S.M.A.R.T. (Specific, Measurable, Attainable, Realistic, and Timely). It is a principle that we stress during our recruitment process. The reason we bring up this subject is because this month's issue of Senior Market Advisor has a decent article titled 50 Best Ways to Generate Leads. The tips were selected from numerous submissions sent in by readers and industry leaders.
The tips are redundant and don't really tell you anything revolutionary, but they serve as an excellent reminder and reinforcement of best practices we should continue to follow in order to generate quality leads. To save you time, we've condensed the 50 tips into five and added our own spin on them. Feel free to contribute your own tips in our comments section below.
Focus on Referrals – If you've done a great job with your clients, then never be afraid to directly ask for referrals. Your loyal customers are extremely valuable because of this so customer retention is important. Additionally, look to establish referral partners. If your clients have a good experience with the professionals you recommend to them, they will further trust your advice and see you as a solution provider for a range of services.
Leverage Technology Smartly – Not all technology is right for your business. If you know 90% of your market doesn't use computers, then don't waste your time creating a Facebook page, a Twitter page, or an E-blast campaign. For example if your goal is to keep your clients continuously updated on the latest news, it may be better to send out text messages to their cell phones rather than through twitter or through an e-blast. Also be aware of how much time you spend tinkering with technology – it may be better spent generating leads the old-fashion way.
Quantify Your Networking – You already know the importance of networking, but are you measuring the effectiveness of your networking? It's good to set predetermined goals and continually try to improve your numbers. If you are going to a one or two hour event, keep reminding yourself that you need to make an X number of new contacts within that time. How many of these contacts turned into leads? How many of those led to real business? Look back each year and see if the events you attended were the right ones and are worthwhile to attend again.
Target and Customize – In all your marketing efforts take the time to plan and really make your efforts as lean as possible. By lean, I mean as targeted and customized as possible. Some of the ideas proposed in the article were to send out handwritten notes, personal pictures, using names in communications whenever possible, and meeting clients at special times such as their birthday months. Additionally, standing out from your competition is important too. Is anyone else using video testimonials? According to one industry leader, video boosts retention by 50% over live presentations.
The Don'ts – For every thing we should do, there are many actions that we need to avoid. Here is a list of don'ts that you should keep in mind:
* Don't use mailing labels that lack personalization
* Don't always copy your competitors – they may be on the wrong path
* Don't "freestyle" your presentations
* Don't promote products – promote solutions to problems
* Don't just rely on one method to acquire leads
* Don't sell yourself as an expert in more than one or two knowledge areas