Medicare Blog | Medicare News | Medicare Information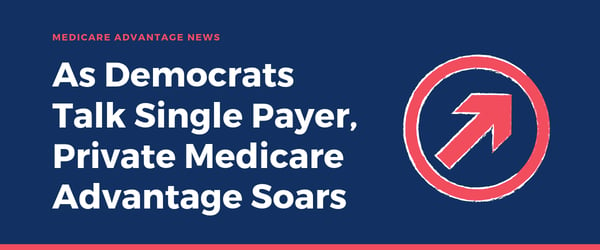 By Bruce Japsen – Forbes – February 5, 2019
Health insurers are reporting unprecedented growth in the number of seniors flocking to private Medicare Advantage plans amid talk of a single payer government-run approach that could uproot such coverage.
The same week U.S. Sen. Kamala Harris (D-California) made news with her support for "Medicare for All," insurers Anthem and Cigna reported strong growth from Medicare Advantage, private coverage sold via contracts with the federal government.
Anthem's Medicare Advantage enrollment jumped by 35% to more than 1 million at the end of 2018 compared to 746,000 in the fourth quarter of 2017, the operator of Blue Cross and Blue Shield plans reported last week. "Our individual Medicare Advantage business is on track to achieve our mid-double digit growth target," Anthem CEO Gail Boudreaux told analysts during the company's fourth quarter earnings call last week. "In total, we estimate our Medicare Advantage growth will exceed 20% by the end of 2019."
Meanwhile, Cigna reported Friday that its Medicare Advantage enrollment was up one percent to 436,000 from 432,000 and UnitedHealth Group ended 2018 with 4.9 million Medicare Advantage enrollees, which was up nearly 12% from 4.4 million at the end of 2017. Other insurers including Aetna, which is now part of CVS Health, are expected to report higher Medicare Advantage enrollment later this month after these plans expanded into new markets.
The industry is tapping into a market of more than 10,000 baby boomers aging into the Medicare population every day . The insurers that have reported 2018 earnings thus far are reporting overall industry growth that's slightly ahead of the projected record growth the Centers for Medicare & Medicaid Services (CMS) predicted for Medicare Advantage last fall. "We completed a strong Medicare Advantage enrollment season . . . and are on track to achieve 2019 growth within the 400,000 to 450,000 range of expectations," Steve Nelson, CEO of UnitedHealthcare, UnitedHealth's insurance business told analysts two weeks ago.
Medicare Advantage plans contract with the federal government to provide extra benefits and services to seniors, such as disease management and nurse help hotlines, with some even providing vision and dental care and wellness programs. CMS is changing regulations to allow Medicare Advantage plans to provide broader coverage in the future, which is also expected to boost enrollment. L.E.K. has projected Medicare Advantage enrollment will rise to 38 million, or 50% market penetration by the end of 2025.
As seniors flock to Medicare Advantage, analysts say it's going to make it difficult for Democrats on the presidential campaign trail to support a Medicare for All approach that would bring an end to the private insurer's role.
The insurance industry worries most about so-called "single payer" forms of health insurance that would conceivably replace the private insurer's role with a government-administered form of coverage. U.S. Sen. Bernie Sanders of Vermont has espoused the single payer approach for years but the Medicare for All Act of 2017 that he, Harris and others supported does mention "the ability to enroll in a Medicare Advantage plan."
America's Health Insurance Plans, the health insurance lobby that includes Anthem, Cigna and other insurers that sell Medicare Advantage, said Americans don't want a "a one-size-fits-all health care system."
"Today, health insurance providers deliver coverage that is working for hundreds of millions of Americans – including 180 million Americans who are covered through an employer, 20 million covered through Medicare Advantage, 55 million covered through Medicaid managed care, and 20 million who buy their own coverage," AHIP spokeswoman Kristine Grow said.
"The vast majority of these 300 million Americans are satisfied with their existing coverage," Grow added. "One of the reasons they like their coverage is it provides them with choice and control. Health care is personal – all Americans are unique individuals with different health care needs depending on their stage of life, where they live, their income and resources, and physical and mental health. People should be able to get the care they need, when they need it, at a cost they can afford."
Source: https://www.forbes.com/sites/brucejapsen/2019/02/03/as-democrats-talk-single-payer-private-medicare-advantage-soars/#71a5c29458f3
Additional Updates:
Tags: Humana, Medicare Advantage, Medicare, aetna, CVS, WellCare