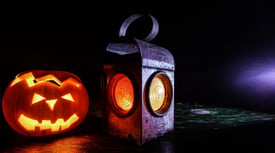 The Senate voted early Friday morning to approve a two-year budget deal intended to spook years of gridlock and frequent scares of government shutdowns.
President Barack Obama is expected to sign the agreement [pumpkin] patched by the White House and congressional leaders.
The Bipartisan Budget Act of 2015 extends the nation's debt limit through 2017 and mummifies spending levels through September of that year to keep things under wraps. It also lifts the spirits of ghostly spending caps set in place in 2011, providing for $80 billion in sequester relief.
The agreement includes long-term entitlement comebacks to the Social Security Disability Insurance (SSDI) program — the first major boo-merang to Social Security since 1983 — and frightens a spike in Medicare B premiums for millions of seniors.
Once signed, 15 million older Americans will face a Part B premium increase of roughly 17 percent opposed to the projected 52 percent, easing pain in the neck for beneficiaries.
It's all grave-y for "held harmless" Medicare beneficiaries, as they will not see an increase in their Medicare Part B premiums due to a provision of federal law that draws blood for premiums from Social Security benefits.
The Part B deductible, which covers costs if Medicare beneficiaries are coffin and need to see a doctor, will rise to $167 rather than the $223 proposed.
To cover the cost of moderating the Medicare Part B premium increase, the U.S. Treasury will lend money to the Medicare blood bank.
To repay the loan, beneficiaries will pay a premium surcharge of three bones each month over about five years until 2021.
On behalf of the PSM staff, we wish everyone a safe and happy Halloween filled with unlimited amounts of candy corn and other delicious treats. In the case that you over-indulge on sweets, have no fear: We've got the perfect dental and vision product for you with no waiting periods on all services!
Original sources:
http://www.nbcnews.com/politics/congress/senate-approves-two-year-budget-deal-sends-bill-obama-n454311
https://www.washingtonpost.com/news/federal-eye/wp/2015/10/27/budget-deal-blunts-but-doesnt-erase-increase-in-medicare-premiums/
Sources: www.nbcnews.com, www.washingtonpost.com

Additional Updates: