Many seniors and people with disabilities who are on traditional Medicare find themselves searching for additional coverage to cover for medical expenses that Medicare does not already cover. More and more of these beneficiaries find the help through private health coverage of Medicare Advantage plans.

Seniors choose to enroll in Medicare Advantage plans because these plans provide comprehensive medical coverage, higher-quality care, better services, and additional benefits, reports The Coalition for Medicare Choices, a national grassroots organization who sole purpose is to protect and improve Medicare Advantage.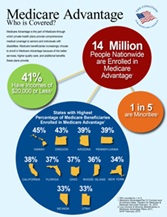 Who's covered? According to CMC's website MedicareChoices.org, Medicare Advantage covers over 14 million people nationwide. Out of those 14 million, 41% are blue-collar workers who earn less than $20,000 year, 1 in 5 being minorities.

In February 15, 2013, the Centers for Medicare & Medicaid Service enrollment data showed Hawaii, Oregon, Arizona, Pennsylvania, California, Florida, Ohio, Rhode Island, New York, Nevada and Utah as having the highest traditional Medicare beneficiaries enrolled in Medicare Advantage.


Does Medicare Advantage have high satisfaction and better quality care? In a new survey from The North Star Opinion Research firm commissioned by America's Health Insurance Plans (AHIP), found 9 out of 10 seniors are satisfied with their Medicare Advantage coverage.

It has also been reported that 13 out of 20% of beneficiaries with Medicare Advantage had fewer patient readmissions into hospitals than Medicare fee-for-service, according to the American Journal of Managed Care. The quality of care for seniors under the Medicare Advantage program has improved as well, outperforming Medicare fee-for-service in 9 out of 11 quality measures.


Please give us your feedback!
Question: Despite the recent government's budget cuts changes made to Medicare Advantage program, do you feel Medicare Advantage satisfaction and quality measure will decline overtime or will it make it have the opposite effect?

Source: MedicareChoices.org
Additional Updates:
Oxford Life Med Supp New Product Release in ID, IL, ND, NV.
October 2013 Med Supp rate release for ID. Learn More

- Med Supp rate release for IL. Learn More

- Med Supp rate release for ND. Learn More

- Med Supp rate release for NV. Learn More
Gerber Life
November 2013 Med Supp rate release for ID, IN, WA, WY. Learn More

- November Med Supp Outlines for ID. Learn More

- November Med Supp Outlines for IN. Learn More

- November Med Supp Outlines for WA. Learn More

- November Med Supp Outlines for WY. Learn More

- SELECT Provider Directory Updated. Learn More

- SELECT Directory. Learn More

- October Med Supp Rate Adjustment for LA, VA and Med SELECT LA. Learn More
2014 Medicare Advantage and Part D Certifications are now available! Learn More