Medicare Blog | Medicare News | Medicare Information

An Early Look at 2021 Medicare Advantage Benefits
Now that marketing for Plan Year 2021 is underway, this is an excellent time to check on 2021 MA supplemental benefits and compare them to supplemental benefits in 2018, 2019 and 2020.
As shown in Table 1 below, the most popular supplemental benefits continue to be benefits with a long history in the MA program — including optical, audio and dental benefits, and relatively low-cost benefits that plug holes in original Medicare's idiosyncratic benefit structure.

While readers familiar with MA benefits will not be surprised by the benefits on this list, they might be surprised by how many plans continue not to offer them.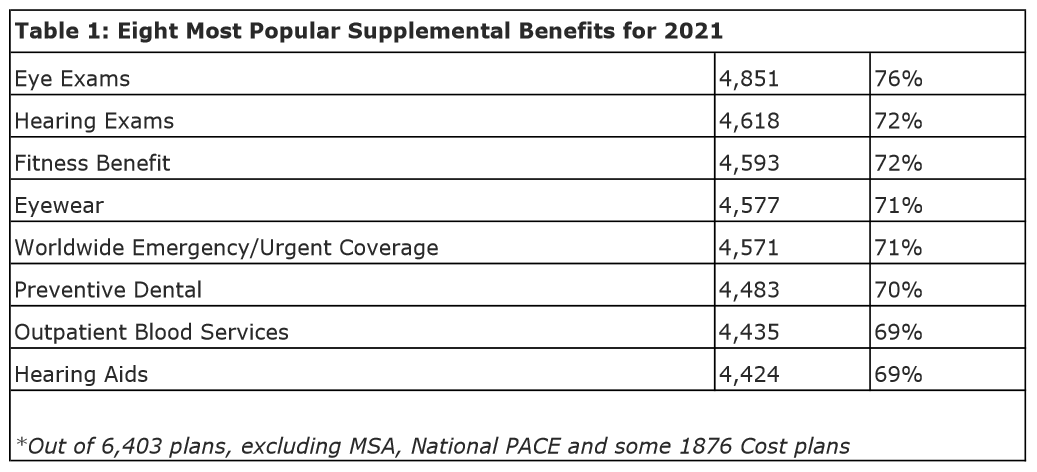 Figure 1 below shows that, across the board, the number of plans that offer the most popular supplemental benefits has increased every year since 2018.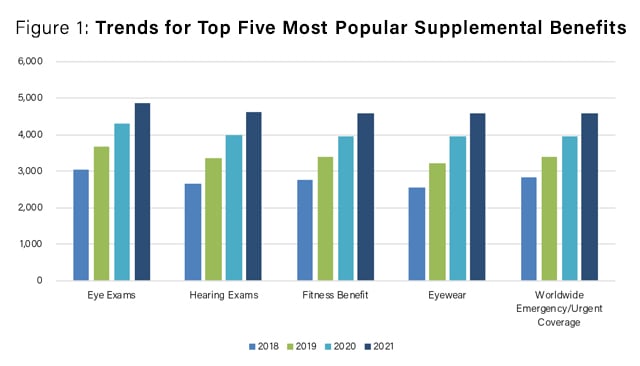 Figure 2 below analyzes the annual change in the percentage of MA plans offering the top eight supplemental benefits compared to total plans offered.

We saw a decrease in outpatient blood services, a benefit that is difficult to market, as plans increase more marketable supplemental benefits. All other popular benefits are increasing in frequency.

The percentage of total plans offering hearing aids, for example, as a supplemental benefit was the largest increase.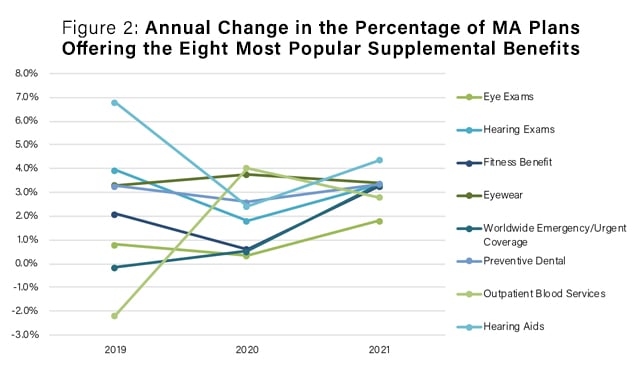 Over the last two years, we have consulted a number of MA organizations, associations and vendors about the new supplemental benefit flexibilities.

In these touch points, certain benefits are consistently discussed for their potential to provide a positive return on investment (because the costs avoided as a result of the benefit exceed the cost of the benefit) or marketing sizzle.

Figure 3 below shows the rising popularity of these most discussed benefits.

Readers will note that some of the benefits (Comprehensive Dental and Over-the-Counter Drugs, in particular) are now common MA plan offerings. Transportation and meal benefits are also gaining in popularity.

Other much-talked-about benefits, such as in-home support, remain uncommon but are growing.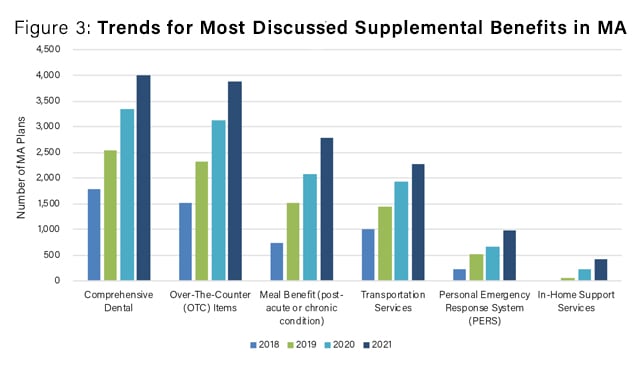 Still, other benefits have been the subject of much discussion for their potential to treat chronic conditions in new ways.

These range from covering new provider types — such as acupuncturists, therapeutic massage and chiropractors (beyond existing Medicare-covered chiropractic services) — to creative benefits that increase member safety, such as bathroom/home safety devices.

Figure 4 below demonstrates a considerable rise in the number of MA plans covering new provider types, particularly with regard to acupuncture and chiropractic services.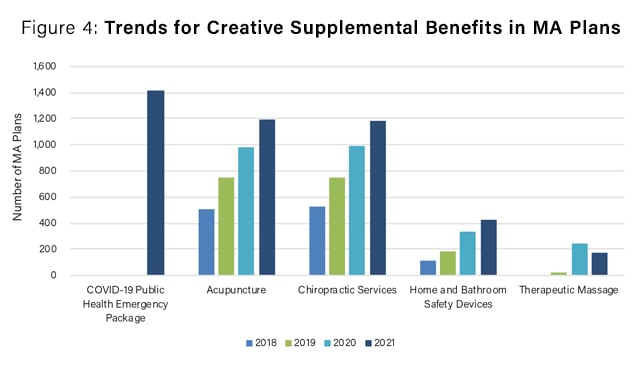 Tags: Medicare Advantage, 2021