Medicare Advantage Beneficiaries Will Again See a Jump in Supplemental Benefit Offerings in 2020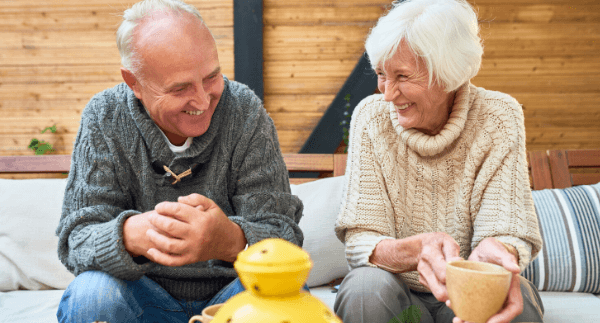 Medicare Advantage (MA) plans continue expanding coverage of supplemental benefits following administration's policy changes from a year ago.
New analysis from Avalere finds that MA plans will continue to increase their supplemental benefit offerings in 2020, following increased flexibility provided by the Centers for Medicare & Medicaid Services (CMS) for the 2019 plan year. Supplemental benefits are additional services offered by MA plans that are not covered under Medicare Part A, Part B, or Part D, including transportation to physician visits, coverage of OTC drugs, meals, and other supplemental services that promote beneficiary health and wellness.
The key supplemental benefits that have been increasingly offered by plans from 2018 to 2020 include meals, transportation, acupuncture, and over-the-counter (OTC) benefits, among others (Table 1).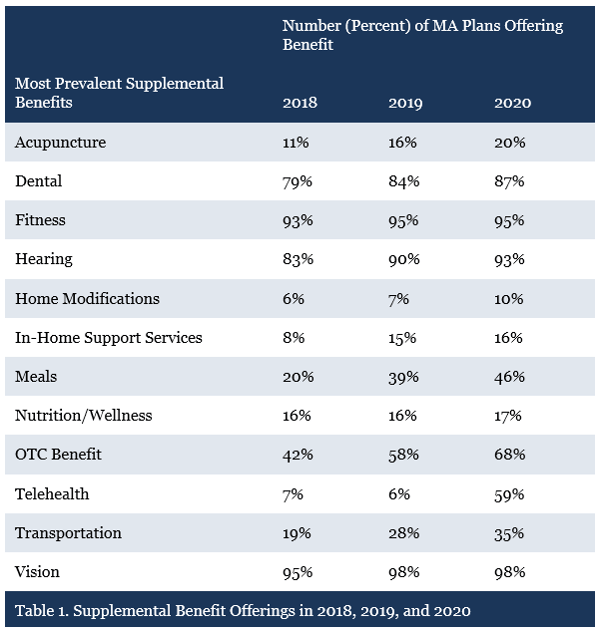 The big 3 supplemental benefits (vision, hearing, and dental) are now almost universally available (98%, 93%, and 87%). The notable increase in telehealth is associated with the change in the data reporting structure, which in 2020 allows plans to specifically indicate that they provide telehealth as a supplemental benefit.
In addition, plans were able for 2020 to include additional telehealth services as basic Medicare benefit in their Part A and Part B bid submissions to CMS in order for them to be paid for by Medicare. This change may have led plans to report telehealth as a supplemental benefit because the reporting tool does not yet allow plans to report it as a basic benefit.
In addition, 2020 is the first year when MA plans are allowed to offer non-primarily health-related special supplemental benefits for the chronically ill (SSBCI) such as food and produce, home-delivered meals (beyond a limited basis), pest control, and transportation for non-medical needs. However, the information on those benefits has not been released yet by CMS.
"While we now have insight into the majority of supplemental benefit offerings in 2020, we are still waiting for CMS to release data on SSBCI benefits that will be targeted at specific populations," said Joanna Young, associate principal at Avalere. "More importantly, these are the non-primarily health-related benefits that will allow plans to start to address social determinants of health, and we are very interested in seeing what plans are going to do."
Methodology
Avalere analyzed MA plan benefits data in the Q1 2020, Q4 2019, and Q4 2018 plan benefit package (PBP) files released by CMS. Due to different naming conventions that plans use to describe their supplemental benefits—primarily those not associated with specific rubric/category in the PBP file structure—our counts might be underestimating the actual availability of specific supplemental offerings. Avalere excluded MA plans with no drug coverage, Employer Group Waiver Plans, Cost, PACE and Demo plans from the analysis. The analysis includes MA plans in the 50 states, DC, and the territories.
Source: https://avalere.com/insights/medicare-advantage-beneficiaries-will-again-see-a-jump-in-supplemental-benefit-offerings-in-2020
Additional Updates: