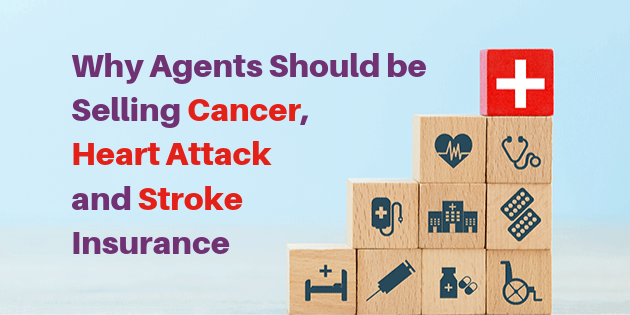 Why Agents Should be Selling Cancer, Heart Attack, and Stroke Insurance
As a Medicare agent it can be tricky to explain to a client who already has Medicare and Medicare Supplement insurance why they may need additional ancillary insurance coverage.
This gets even more complicated when you're trying to discuss illnesses that they may find difficult to talk about, or as the statistics imply, have a high likelihood of being diagnosed with.
Cancer, Heart Attack, and Stroke are some of the leading causes of death among men and women. Medicare managed Care (MAPD) and Medicare Supplements will offer some solutions to these problems, but they won't alleviate ALL of the costs associated with being diagnosed with one of these major illnesses.
If your goal is to educate your clients and provide solutions for all of life's unexpected occurrences, then every agent should have some ancillary options in their quiver to ensure you're providing the best possible options and mitigating as much risk as possible for your clients.
Is there a need for Cancer, Heart Attack and Stroke Insurance?
Thirty years ago Cancer Heart and Stroke Insurance didn't exist. Most people just weren't expected to survive many of the diseases that are survivable today, so they may be completely unfamiliar with these options or how they work.
With more people surviving these types of illness, more and more survivors of a major illness are facing financial difficulties because of them. It's not just the lifesaving treatment that needs to be considered, but a number of possible financial hardships that may come out of the situation.
When people get sick they may soon realize that the expenses incurred due to lost work, continuing treatments and ancillary needs that weren't considered, quickly become a mountain of debt.
Without trying to push the fear angle, it may be enough to simply review the statistics and help them realize the sobering fact that many people will need this coverage at some point in their life.


[ Get details on offering Cancer, Heart Attack or Stroke Insurance to your clients ]


Let's take a look at the statistics that support that need.


Heart Attack: Number one cause of death for men and women. 3

Responsible for 1 out of every 4 deaths. 4
Average age at first heart attack: 65-Male, 72-Females. 3
One of the most expensive conditions treated in hospitals today. 3


Cancer: Second most common cause of death. 1

87% of all cancers are diagnosed in persons aged 50 or older. 1
Every 2 minutes a child is diagnosed. 2
41% of men and 38% of women will be diagnosed in their lifetime. 1


Stroke: Third leading cause of death in women and fifth in men. 5

Leading cause of serious long-term disability. 3
Among top 10 leading causes of death in children. 5
Recovery is a lifelong process. 5


Survival Rates: Good News. Survival rates for all 3 illnesses are increasing.
The potential costs related to cancer, heart attack and stroke.
Cancer, heart attack and stroke are among the top 5 causes of new and existing long term disability claims. 9
This is why it is imperative to have additional insurance so you don't burn through your savings and 401K just to stay afloat and tackle the problem.
Costs for surgeries and procedures are expensive enough, but when you begin adding in the cost of missing work, travel to and from specialized facilities, and lodging is where people can get themselves in a real bind that could possibly lead to excessive spending or bankruptcy, if not properly mitigated through insurance.

Out of pocket costs of cancer, heart attack or stroke.

The costs of the first 6 months from the start of treatment includes medical care health insurance won't cover and miscellaneous expenses like lost wages, home-care, travel and lodging, etc.
A cancer survivor, on average will be responsible for about $15,868 10



A stroke survivor will, on average, owe approximately $23,380. 7


A Heart Attack survivor will owe about $21,995. 8



How Can a Lump Sum Policy Help?
While Medicare, Medicare Supplement Plans or Medicaid may cover most of your direct hospital costs, the other costs can vary depending on your illness and your personal situation. That's where a lump sum payment works so well.
A lump sum benefit is paid directly to you or someone you designate, regardless of other health insurance coverage. A lump sum payment is distributed when you are diagnosed and can be used to help pay for whatever you choose, whether it's medical expenses, groceries, a mortgage, electric bill, etc.
It covers the gap left by other policies and quickly gives you 100% of the selected benefit. This provides the additional coverage needed to withstand the financial impact of diagnosis.
There is no one plan that can cover everything, but the right plans do exist to create the best coverage for an individual based on their needs. A Cancer, Heart Attack and Stroke policy can provide much needed coverage when illness expenses extend outside those directly related to the treatment.
People's financial well-being doesn't need to suffer because of the total cost involved with a major illness. Reviewing their needs, risks and options is the first step to helping them put together a complete insurance coverage plan.
The more wrap around policies/coverage you offer to your clients the more secure they can feel knowing they have a "Blanket" of protection to cover them, in case something unexpected occurs.


[ Get details on offering Cancer, Heart Attack or Stroke Insurance to your clients ]

PSM offers agents some the best products and support in the industry. Talk to one of our experienced marketers to see what solution(s) may be best for you.
Sources:
1 American Cancer Society, Cancer Facts & Figures 2017, cancer.org
2 Pediatric Cancer Research Foundation Annual Report 2015, pcrf-kids.org
3 American Heart Association, American Stroke Association, Heart Disease and Stroke Statistics 2018 At- A-Glance
4 Centers for Disease Control and Prevention, Heart Disease Facts 2017, cdc.gov
5 National Stroke Association, 2017 Facts, stroke.org
6 Cancer costs may rise 27% by 2020, John Commins, HealthLearers Media, January 2011
7 Stroke Fact Sheet, CDC and Prevention, cdc.gov
8 Top Ten Things to Know About Heart Disease and Stroke Statistics, American Heart Association heart.org,
American Stroke Association, stroke.org
9 https://www.uphelp.org/Emmet%20Pierce, download 8/29/18
10 http://ncbi.nlm.nih.gov/pmc/articles/PMC4194474
Additional Updates: