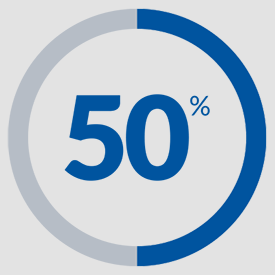 UnitedHealth Group Predicts 50% Of Seniors Will Choose Medicare Advantage
Medicare Advantage plans could quickly become the choice of one in two seniors as millions flock to privately administered health benefits for the government's health insurance for elderly Americans, the nation's largest health insurer is predicting.
UnitedHealth Group executives are confident it's only a matter of time before more than half of the nation's seniors are enrolled in a Medicare Advantage plan over traditional fee-for-service Medicare. The insurer's executives wouldn't say when such growth would take place, but health plans reporting earnings in the next two weeks are expected to report solid growth.
Currently, just under 35% of Medicare beneficiaries, or about 20 million Americans, are enrolled in MA plans, which contract with the federal government to provide health benefits to seniors.
"We do think there's an opportunity to further advance the penetration of the Medicare Advantage," UnitedHealthcare CEO Steven Nelson said on the company's second-quarter earnings call earlier this week. "Where it can go, hard to tell, but I don't think it's unreasonable to think about something north of...40% approaching 50%. It doesn't seem like an unreasonable idea to us."
The company's bullish predictions about the two-decade-old effort to hand Medicare administration off to private insurers come amid partisan rancor over the future of privately subsidized individual policies under the Affordable Care Act. Some Democrats and Republicans would like to see allowing Americans under age 65 to "buy in" to Medicare or an MA plan, according to a proposal by 10 Democrats in the U.S. House of Representatives.
UnitedHealth wouldn't predict when more than half of U.S. seniors would be in private plans, but the insurance industry has been successfully convincing members of Congress and Presidents of both political parties that private insurance has a role in administering Medicare health benefits.
Despite more liberal Democrats pushing a single-payer approach to healthcare that would provide "Medicare for all," Medicare Advantage actually saw larger growth under Democratic former President Barack Obama than the Republican administration of George W. Bush, according to government statistics, according to government statistics.
As of May, 58 million Americans are enrolled in Medicare. Of that, "Original Medicare" enrollment is 37.9 million, with current MA enrollment at about 20.1 million, according to the Centers for Medicare & Medicaid Services.
Other major insurers that sell MA plans included most major carriers such as Anthem, Aetna, Cigna, Humana and Blue Cross and Blue Shield plans. Such plans provide extra benefits and services to seniors, such as disease management and nurse help hotlines, as well as some plans providing vision and dental care and wellness programs. UnitedHealth's rivals are expected to update Wall Street on their MA sales when they report earnings over the next three weeks.
Revenue in UnitedHealth's Medicare business jumped 17%, or $2.5 billion, to $16.7 billion in the second quarter. The company is facing federal fraud allegations related to its Medicare Advantage business, but UnitedHealth has rejected the allegations as groundless.
Meanwhile, UnitedHealth's Medicare Advantage business continues to grow.
"Our Medicare Advantage business continues to benefit from strong consumer retention reflecting seniors' positive experience and the clear economic value of our offerings," UnitedHealth Group president Dave Wichmann said. "In 2018, our distinctive product value and consumer experience should allow us to continue to grow as we expect to increase our overall Medicare Advantage market share in a growing Medicare Advantage market again next year."
Source: https://www.forbes.com/sites/brucejapsen/2017/07/20/unitedhealth-group-predicts-50-of-seniors-will-choose-medicare-advantage/#1484b28f6c5d
Additional Updates:
Your path to AEP success with PSM - View

2018 United Healthcare First Looks now available - View

2018 Aetna / Coventry First Looks now available -

View

2018 Medicare Advantage / PDP Certifications now available - View

2018 AHIP Training now available - Lock in your $50 PSM discount today - View

Sentinel Life announces New Personal Choice Plus+ Annuity -

View

New: AgentXcelerator Platform - Free quoting tools for PSM Agents - View

Express: Mutual of Omaha weekly updates - View

VALUES quote of the week - View

Skyrocket your Med Supp sales by selling online - View