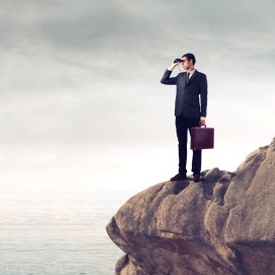 5 Prospecting Methods That
Really Work
It's no surprise that prospecting is the No. 1 challenge advisors face, year after year. When, as part of National Underwriter's recent Independent Producer Study, we asked about the most challenging aspects of selling insurance products, 55 percent of respondents named prospecting as their top trial. It was a landslide winner, in fact, beating such formidable obstacles as clients' lack of understanding around the need for insurance (34%), negative opinions of insurance products (25%) and product affordability (22%).
As you look to overcome this challenge in the year ahead, keep these five techniques in mind. While there's no silver bullet to make prospecting a breeze, these are the methods your peers know from experience to really work.
REFERRALS
A steady stream of qualified referrals is the lifeblood of any agency. Eighty-two percent of survey respondents cited referrals as the most effective way to prospect for new business, and for good reason: No other method will provide greater bang for your buck, so to speak. Having a solid referral-generating process in place will ensure not only that you are constantly introduced to new prospects, but that you are constantly introduced to the right prospects — the ones that meet your Ideal Client profile.
Referral expert Bill Cates suggests growing your referral network by being careful to keep referral sources informed about how you are following up on their help. This communicates that you value their insight and advice. Says Cates: "When someone gives you a referral, there are three things you MUST do to keep the referrals coming from that source: a) Follow up on every referral you get as soon as possible; b) Let your source know that you are following up on their help; c) Thank your referral source with a handwritten note and a small gift."
PARTICIPATION IN COMMUNITY GROUPS, ASSOCIATIONS OR ACTIVITIES
At 34 percent, community involvement was named the second most effective prospecting technique. It's Branding 101: The more people who associate your name with a positive message, the more clients you will have. Jim Brogan, president and founder of Brogan Financial in Knoxville, Tenn., makes community involvement a cornerstone of his practice, and has seen a boom in business as a result – not to mention a greater satisfaction and sense of fulfillment in the work he does each day. He encourages financial advisors to ask these questions as they consider how to get involved in their community: How many people in your community know who you are and what you do? If they hear the name of your business, what is the brand they associate with it? Is your brand different than any other financial advisor in town? Do you have a unique message and marketing initiative that helps you stand out from the crowded field of financial advisory firms?
LOCAL EVENTS OR SEMINARS
Leading a seminar serves two important purposes: First, it establishes you as a thought leader in your area of specialty; second, it puts you in front of a group of prospects that have already expressed interest in your product line. Twenty percent of our survey respondents cited this as an effective prospecting technique – and while it may be tried-and-true, there are plenty of ways to tailor your seminar approach for today's buyers. Industry coach Kerry Johnson suggests shunning the somewhat dated dinner seminar and instead holding a Social Security seminar designed purely to educate prospects. The overhead will be lower and, in many cases, the conversion of prospects to clients will be higher. Johnson notes: "Since you have taken away the motivation to get a free meal, the attendees are left with solving retirement problems. This is your retirement planning sweet spot."
COLD CALLING
It may sound old-school, but cold calling can still work according to 15 percent of our advisors. In fact, picking up the phone beat out sexier methods such as social media (7%) and advertising on the radio or television (5%). Coach Kelley Robertson acknowledges that cold calling is tough, but asserts emphatically that it is not dead. To see results, you must put in the time you would with any other prospecting technique — and, of course, have thick skin. Robertson's advice to agents: "You need to make a lot of dials. You need to target the right companies. You need a compelling opening. And you need to speak to the right people."
DIRECT MAIL
Just under 15 percent of respondents cited direct mail as an effective prospecting technique — and J. Ryan Parker, general manager of Element Financial Group thinks the number of agents that prospect this way may actually be much higher, while also noting that it should not be a stand-alone prospecting method. Says Parker: "I think a lot of prospecting still revolves around direct mail — more so than people realize [because] seminars are powered by direct mail. This is obviously not the most cost-effective way of marketing yourself; you can probably spend a lot less money doing this on the Internet. But the clients producers are looking to reach, the seniors and the boomers, just aren't as prone to go to Google and look something up. This is why more of your successful planners are still using direct mail. That said, online needs to be part of every producer's prospecting strategy because it streamlines the business process. If I get a lead from the Internet, it automatically enters into my CRM, and we can follow-up from there. Internet is absolutely critical for today's producers."
Source - http://www.thinkadvisor.com/2013/11/06/5-prospecting-methods-that-really-work?page_all=1
Additional Updates:
Your path to AEP success with PSM - View

UnitedHealthcare Medicare Supplement Summer Bonus - View

Transamerica Voice Signature now available on Med Supp apps - View

New: Excelerate your business with our new AgentXcelerator Platform - View

2018 AHIP Training now available - Lock in your $50 PSM discount today - View

Express: Mutual of Omaha weekly updates - View

VALUES quote of the week - View

Skyrocket your Med Supp sales by selling online - View

Free Med Supp online quoting tool for PSM agents - View