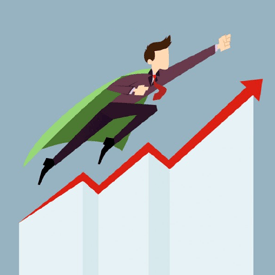 Medicare Advantage Commissions Increased for 2018 Enrollments
This memorandum provides contract year (CY) 2018 compensation limits for agents and brokers, directions for submitting amounts into the Health Plan Management System (HPMS), as well as training and testing requirements.
Compensation Rate Adjustment for CY 2018
As provided in 42 C.F.R. §§422.2274(b)(1) and 423.2274(b), the compensation amount paid to an independent agent or broker for an enrollment must be at or below the fair market value (FMV) cutoff amounts published yearly by CMS.
The CY 2018 FMV cut-off amounts for all organizations are as follows: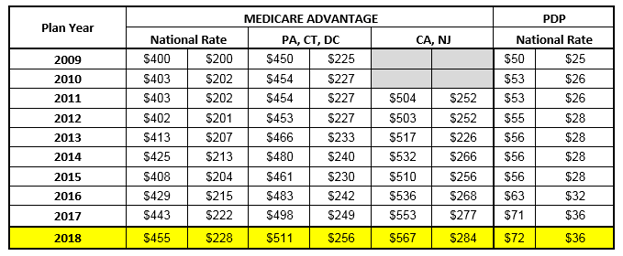 (2.7% increase ($12 / $6) to the writing agent for 2018 Medicare Advantage enrollments.)
NOTE: The FMV amounts for CY 2018 are rounded to the nearest dollar. The Initial Year amount is the maximum allowable to be paid for enrollments during compensation cycle-year 1. The renewal amount is the maximum allowable to be paid for enrollments during compensation cycle-years 2 and beyond.
Compensation Rate Submission for CY 2018
As in past years, all organizations must inform CMS via HPMS whether they are using employed, captive, or independent agents. Organizations that use independent agents must provide the initial 2 and renewal compensation amount or range of amounts paid to these agents. Additionally, if an organization pays referral fees, the organization must disclose the referral fee amount. CMS has provided instructions for data entry in the HPMS Marketing Module User Guide.
Organizations may submit their agent/broker information in the HPMS Marketing Module from
May 26, 2017 through July 28, 2017, 11:59 pm EST. Please note that CMS does not consider the submission process complete until the organization's CEO, COO, or CFO has completed the attestation in HPMS. Organizations that fail to submit and attest to their agent and broker
compensation data by July 28, 2017 will be out of compliance with CMS requirements.
Organizations will not be able to make changes to those submissions after the July 28, 2017
deadline.
CMS expects organizations to keep full records documenting that they are updating compensation schedules and paying agents and brokers according to CMS requirements.
Please note that the CY 2018 compensation information submitted will be made available for the public to view on www.cms.gov prior to the annual election period for CY 2018.
Additional Updates:
New: Excelerate your business with our new AgentXcelerator Platform - View

Part D spending eclipses all other areas - View

New Medicare cards offer greater protection for millions of Americans - View

Medicare.gov has lots of great info for you and your clients - View

Express: Mutual of Omaha weekly updates - View

VALUES quote of the week - View

Skyrocket your Med Supp sales by selling online - View

Free Med Supp online quoting tool for PSM agents - View