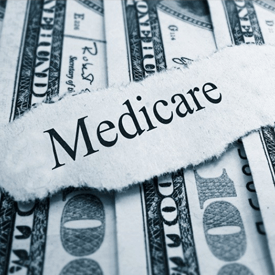 High-income surcharge based on new brackets next year.
As your older clients gather their financial documents to file their 2016 federal income taxes, they should pay close attention to the bottom line on their tax return. Their adjusted gross income in 2016, plus any tax-exempt interest income, will determine next year's Medicare premiums.
Many Medicare beneficiaries will be surprised to learn that some of the income brackets which determine Medicare premium surcharges for high-income retirees will change in 2018. Essentially, some higher-income seniors will shoulder a larger share of Medicare costs in 2018 even if their income remains at current levels.
Individuals whose modified adjusted gross income (MAGI), which includes tax-exempt interest, tops $85,000 and married couples whose joint income tops $170,000, pay higher premiums for both Medicare Part B, which covers doctor visits and out-patient services, and Medicare Part D, which covers prescription drugs costs.
There are five income tiers and if your MAGI exceeds an income bracket by just $1, you are catapulted into the next tier and will pay a higher surcharge. Medicare premiums are based on the latest available tax return, so 2018 premiums will be based on 2016 tax returns filed this year.
In 2017, most new enrollees in Medicare Part B pay a standard premium of $134 per month. So do existing Medicare beneficiaries who do not receive Social Security benefits. But most other retirees who have their Medicare Part B premiums deducted directly from their Social Security benefits pay less.
That's because a hold harmless provision in the Social Security Act protects most seniors from a net decline in benefits when Social Security annual cost-of-living adjustments are smaller than a scheduled increase in Medicare premiums. In most cases, any increase in Medicare premiums is limited to the dollar amount of the Social Security COLA. Because of the paltry 0.3% inflation adjustment in Social Security benefits for 2017, about 70% of beneficiaries who enrolled in Medicare before 2017 are protected by the hold harmless rule and will pay premiums ranging from about $110 to $126 per month this year.
(More: What Medicare changes will mean for clients in 2017)
But higher-income retirees pay more. In 2017, premiums that include high-income surcharges for Medicare Part B range from $187.50 to $428.60 per month. Rates are per person, so a retired couple would pay twice that amount. That means married couples whose income topped $428,000 in 2015 will pay more than $10,000 for Medicare Part B premiums alone in 2017.
Next year could be even more costly for some higher-income retirees as the income brackets that determine Medicare premium surcharges will be compressed.
The initial income threshold of $85,000 for individuals and $170,000 for married couples that triggers a premium surcharge will remain the same in 2018. So will the second income tier of $85,001 to $107,000 for individuals and $170,001 to $214,000 for married couples.
But tiers three and four will be compressed in 2018, meaning individuals with incomes between $133,501 and $214,000 in 2016 will be subject to higher premium surcharges in 2018 than they would be today. The same applies to married couples whose 2016 income was between $267,001 and $428,000. They will pay higher Medicare premiums surcharges in 2018 than they would today at the same income level.
Individuals in the top tier with incomes above $214,000 and married couples with incomes above $428,000 would continue to pay the highest surcharge. That represents 80% of the per capita cost of the Medicare Parts B and D programs compared to a 25% cost share shouldered by those paying the standard Medicare premiums.
(More: Medicare decisions get personal)
Medicare premiums are set each fall to take effect the following Jan. 1. Retirees can be subject to a Medicare premium surcharge if their income spikes for a variety of reasons such as large investment gains, sale of a vacation home, or converting a traditional retirement account to a Roth IRA. If their income later falls, future Medicare premiums may decline.
If a retiree's current income is lower than the most-recent tax return, they may be eligible to appeal a Medicare premium surcharge — but only if the income drop is the due to specific life-changing events such as death of a spouse, divorce, marriage or retirement. If that is the case, clients should immediately respond to the premium surcharge notice, known as an income-related monthly adjustment amount (IRMAA) letter they receive in the fall, and follow the instructions on how to appeal the surcharge.
Source: http://www.investmentnews.com/article/20170125/FREE/170129961/2016-tax-returns-determine-2018-medicare-premiums
Additional Updates:
Free Med Supp online quoting tool for PSM agents -

View