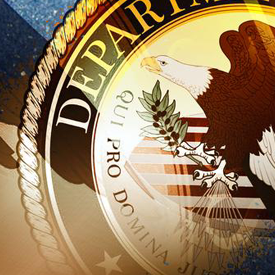 (Bloomberg) — U.S. antitrust enforcers roundly rejected a pair of proposed deals that would consolidate the nation's five biggest health insurers into just three.
The Justice Department filed an antitrust lawsuit to stop Indianapolis-based Anthem's merger with Bloomfield, Connecticut-based Cigna Corp. in federal court in Washington on Thursday and also moved to block Hartford-based Aetna's planned merger with Louisville, Kentucky-based Humana.
Eight states including Florida and Illinois, plus the District of Columbia, are joining the federal government's suit to block the Aetna-Humana deal.
Nine states and the District of Columbia joined the U.S. action against the Anthem-Cigna deal, including California, New York and Connecticut. "If permitted to proceed, Anthem's purchase of Cigna likely would lead to higher prices and reduced benefits," the Justice Department said in the complaint, which was filed in federal court in Washington Thursday.
Anthem, in a statement, said it was fully committed to challenging the DOJ action in court but would remain receptive to efforts to reach a settlement with the Justice Department.
The U.S. action is "an unfortunate and misguided step backwards for access to affordable healthcare for America," Anthem said. "The DOJ's action is based on a flawed analysis and misunderstanding of the dynamic, competitive and highly regulated healthcare landscape and is inconsistent with the way that the DOJ has reviewed past healthcare transactions. "
Cigna said it was "evaluating its options consistent with its obligations under the agreement" and said it doesn't expect the transaction will close in 2016. "The earliest it could close is 2017, if at all."
The actions are likely to set off a round of court battles as the insurers are obliged to fight the moves and could spark renewed pursuit of smaller players in the industry if the deals fail.
The cases are U.S. v. Anthem Inc., 16-cv-1493, U.S. District Court, District of Columbia (Washington) and U.S. v. Aetna Inc. 16-cv-1494, U.S. District Court, District of Columbia (Washington).
Source: http://www.lifehealthpro.com/2016/07/21/anthem-aetna-sued-by-us-seeking-to-block-insurer-m?t=medicare
Additional Updates: