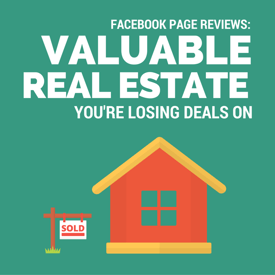 While surfing Facebook, you come across a local senior market insurance agent's page and see that he or she got a couple dozen people to slap some stars down and write a pleasant sentence or two about him.
"What's so great about that," you ask?
Facebook page reviews go beyond just twinkling stars and kind words: they provide valuable real estate that opens new doors, re-opens old ones and presents new business opportunities that weren't previously apparent.
By neglecting the reviews section on your Facebook page, you're likely losing out on deals you could be winning. So, how exactly do you begin generating revenue from this valuable real estate? Read through this post to understand core ways that Facebook page reviews can benefit you.
Generating new business from existing clients

Be proactive in collecting Facebook page reviews by asking your clients to write them. Not only will this extra outreach [hopefully] add to your collection of positive reviews, but also serve as an excellent opportunity to reconnect with them.
For example, let's say you were to contact a client asking for a review who you had previously sold a Medicare Advantage policy. The client could then inquire about a hospital indemnity product to compliment their existing MA policy. And BOOM - just like that, an existing client would bring in new business from your outreach.
Cataloging case studies
Think of your Facebook page reviews section as an archive of case studies available to you when brainstorming new marketing materials to promote your business, such as email campaigns, presentations or proposals.
Use your Facebook page to your advantage by pointing prospects to reviews from clients facing challenges similar to their own. The larger your library, the better the odds.
Building trust with prospective clients

When a prospect stumbles upon your Facebook page, they are granted an opportunity to see what other senior clients may have to say about doing business with you.
Encourage your clients to drop by your Facebook page and vocalize their opinion upon how you were an essential and influential resource in guiding them to select a plan that best-suits their healthcare needs. Not only does this build trust with prospective clients, but also relays social proof.
While you may not have previously deemed Facebook page reviews as valuable assets in your sales process, hopefully these core examples show how they can be. Implement these practices, and you'll quickly begin winning deals you may have been previously losing.
Additional Updates: