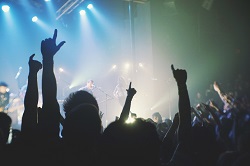 We've all fallen victim to a burnout of prospecting ideas at one point or another.
Agents- You know what I'm talking about...When you've gotten a big, fat 0% return on your direct mail drop investment, knocked on ten doors to hear "I think I'll stay with my company" in all ten instances, cold-called all of the leads you've purchased this quarter until you were blue in the face to only frustratingly be hung up on. You get it.
With AEP around the corner, you're in need of some fresh, innovative ideas to attract prospects and generate leads- So, what are the tricks in expanding your senior market insurance business to reach an all-time rock star status in your community?
How to optimize your local reach to attract new clients
1. Adopt an omni-channel approach
Embracing the growth of new digital and omni-channel capabilities provides clients and prospects with what they desire: convenient access to advice and assistance. The first step toward better-serving this need is to establish your digital presence.
With 55% of online users age 65 and over using Facebook in 2014, it is essential for you to create a Facebook Page to service and retain your existing clients. The smallest of interactions, like dropping by a client's Facebook to post a comment celebrating another rotation around the sun, helps emphasize your appreciation for their business. Not only will your Facebook Page improve the overall client experience, but also serve as a solid foundation for prospects to gain insight toward your role as a senior market insurance specialist.
While nearly 33% of participants in GenRe's recent study: The Role of the Agent in Medicare Supplement Sales reported seeking assistance and not receiving any type of help, it is critical for you, as a senior market insurance specialist, to affiliate your name and business with the zip code you serve on search engines. Suggestions upon how you may go about getting in touch with those senior prospects looking for advice-oriented services include creating a Google My Business account, registering for a free membership with AgentReview, becoming a Sub Moderator on Reddit for r/insurance, and, if applicable, financially and educationally investing in SEO practices for your personal website.
2. Facilitate interactions with advice-oriented sales and services
Outside the realm of selling senior market insurance products, it is in both your and the client's best interest to offer advice on risk management and value-added servicing (such as claims). In doing so, you will continuously build rapport within your community as a senior market insurance specialist so that prospects know where to turn when the time comes.
Digitally, there are multiple platforms for senior market insurance agents to engage with not only prospects who need advice, but also other agents, such as Insurance-Forums and the Inbound Insurance Marketing community on Google+.
You may also go about prospecting by physically placing promotional advertisements or branded products within local facilities with respect to senior market purchasing habits. For example, heading to an independently-owned golf course and asking the owner if he or she would be willing to accept a donation of 1,000 (or more) score cards if, in exchange, you were granted the opportunity to place a small ad upon them in the printing process. Same goes for bookmarks to book stores, calculators to tax centers, piggy banks to banks, coffee mugs to coffee shops or restaurants, coasters to furniture stores- etc.
I have also seen posts within Insurance-Forums regarding agents' technique in placing ads upon prescription bags at local pharmacies. I, however, am an out-of-the-box thinker and decided to get creative, ditch a logo and throw in a catchy slogan upon senior-related products to place at the pharmacy pick-up window for our independent agents with multiple carriers. Take a peek at these ideas:
Check out AnyPromo and see what awesome ideas YOU can come up with to promote your business. (If you happen to be reading this before 10/17, be sure to use coupon code: PINK25 for $25 off your order of $250 or more or PINK75 for $75 off your order of $500 or more!)
3. Leverage data to achieve insight-driven actions and outcomes
Be sure to keep up-to-date with the political, social and economic trends and changes within the senior market insurance industry. You may do so by bookmarking and frequently revisiting resources, such as LifeHealthPro's Boomer Market and Senior Market sections, SeniorJournal, AARP's Medicare section, The New York Times' Medicare section, and most certainly the Medicare and CMS blogs.
Or, just simply subscribe to Precision Senior Marketing's Medicare Blog- We'll do the leveraging work for you, but we want to hear your ideas!
So, how do YOU prospect in your community?
Please, share your thoughts with me in the comments section below.
Source: www.linkedin.com

Additional Updates: