Due to the proposed tax included in the health care reform, those seniors in Medicare Advantage will be facing a $50-$90 per month increase in premiums and/or reductions in benefits next year. This week, new Oliver Wyman data released by America's Health Insurance Plans' (AHIP) Coalition for Medicare Choices (CMC) provided a breakdown of which states would be most impacted.

Seniors in Louisiana, New Jersey, New York and Texas will be hit hardest with their plans increasing $80-$90 a month. California seniors are expected to face a $70-$80 a month increase on their premiums. Most other states will see increases of $50-$60 a month with North Dakota seeing the lowest increase of just $30-$40 a month in premiums.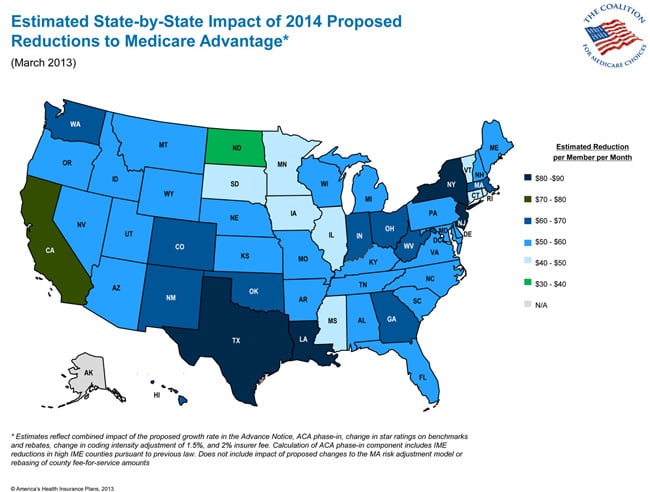 In the past week 120 members of Congress have expressed their concerns about the impact the new cuts will have on seniors. Twenty-two Senators sent a bipartisan letter to the CMS about their concern saying "we are concert that the proposals could result in reduced access for our constituents who are enrolled in Medicare Advantage. Plans have informed us that they may exit certain markets as a result of CMS' proposal." The ninety-eight members of the U.S. House of Representatives' letter stated, "The assumption on the SGR is particularly problematic because it almost certainly will turn out to be wrong and it directly translates into lower funding to support the health benefits of the 14 million Medicare beneficiaries who currently are enrolled in MA plans."

Meanwhile, AHIP has offered a recommendation to stabilize the program and avoid significant disruption to seniors enrolled in Medicare Advantage. The 2014 MA payment rates are scheduled to be finalized April 1.

Precision Senior Marketing will be closed after 1pm Friday, March 29 for the Easter holiday weekend. Regular 8am-5pm CDT hours will resume Monday, April 1. We wish you and your loved ones a happy holiday. We appreciate your business and the opportunity to serve your needs.
Please give us your feedback!
Are you surprised by these Medicare Advantage increases? How do you think it will affect the program?
Source: Marketwatch, MedicareChoices.org
Additional Updates:
Combined Ins - Now Offering 24% Commission - Learn More
Equitable Life Med Supp Now Available in OR, ND, SC - Learn More
New Omaha Insurance Med Supp release - TX, OK, IA and VA - Learn More