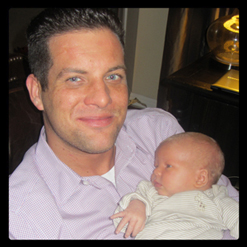 A Personal Message: Please join us in welcoming a new addition to the Vandenberg Family

Lucas Vandenberg and his wife gave birth to their first child, a beautiful and healthy little boy, on October 14, 2012. "Life changing events, such as the birth of a child, really helps put things in perspective and is a good reminder of the things that are truly important in life" says PSM President Lucas Vandenberg.

Running a successful organization has many similarities to cultivating a healthy family unit. All relationships, both personal as well as professional, are based on trust and communication and we hope these are qualities you've experienced working with our organization.

They have thoroughly enjoyed their first month with Grant and all of the changes that come along with welcoming a baby to the family. If you have any tips or suggestions for Lucas and his parental journey, your feedback is welcomed and appreciated.

Precision Senior Marketing wishes all of our agents and their families a happy and healthy Thanksgiving. Our offices will be closed Thursday, November 22nd and Friday, November 23rd. We will reopen Monday, November 26th with our normal working hours.
Additional Updates:
UnitedHealthcare Agents: UHC Website Survey - Learn More
Gerber Medicare Supplement Rate Release for Virginia - Learn More
South Dakota Replacement Form Update Notice - Learn More