The New England Journal of Medicine released a study on Medicare recipients finding themselves back in the hospital less than 30 days after their original discharge in 2003 and 2004. The study found one in five of these patients was readmitted and as many as three-quarters of those could have been prevented. The best way to avoid readmissions is coordinating care from the hospital to those responsible for the next phase of the patient's recovery. Confirming the patient has the best medicine, knowledge of proper diet, and follow-up appointments is crucial to overall recovery and to prevent their hospital readmission. MedPAC estimated that in 2005 hospital readmission cost Medicare $15 billion, $12 billion of which could have been prevented with the proper knowledge of the patient and their care taker. The proposed health care law hopes to reduce these costs by penalizing hospital with a higher than expected readmission rate starting with 1% of Medicare payments in 2012 and increasing in the next years.

Some hospitals already have a post-care transition program in process, including Piedmonth Hospital in Atlanta. At Piedmonth Hospital, patients schedule their follow up appointment while still in the hospital, receive a form describing why they were in the hospital and what they can do for their recovery at home, any diet and exercise restrictions, and within three days of their discharge a nurse calls to check on their progress. This process has paid off, reducing patients under 70s readmission from 13 to 4% and those over 70 from 16 to 11%.
What do you think of the way the Piedmonth Hospital in Atlanta is handling readmissions? Do you think cutting payments to hospitals will help them to follow suit?
Study Shows Elective Surgery in Medicare Beneficiaries Varies by Region
In a study from the Dartmouth Atlas Project of elective procedures in patients over 65, and receiving Medicare, the researchers found regional differences in the way doctors treat their patients. Shannon Brownlee, of the Dartmouth Institute for Health Policy and Clinical Practice, explains that this difference is "the by-product of a doctor-centric medical delivery system." The study focused on Medicare data from 2003 to 2007 on the rates of some elective procedures, from mastectomies for breast cancer to carotid artery surgery and found that doctor's opinions on the surgeries varies greatly by cultures of care, how doctors are trained, and the history of where there medical practice is established. This finding suggests that patient preferences are not necessarily being taken into account when they should be.
What do you think of the findings of this study? Do you think Medicare beneficiaries should be more involved in their care, no matter what region of the United States they live in? Or do you think doctors should make the right choice for their patients?
"Pie Chart" by Nick Anderson, the Washington Post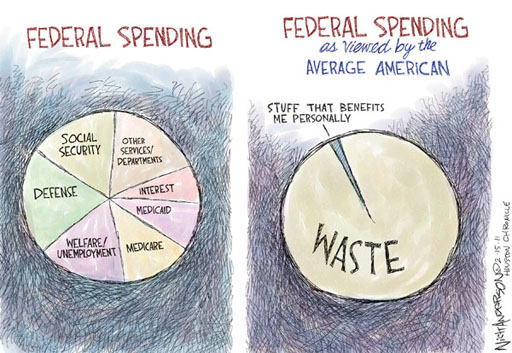 "Pie Chart," Nick Anderson and the Washington Post Writers Group in conjunction with the Cartoonist Group
Assured Life Medicare Supplement Now Available in Virginia
Effective February 23, 2011 Assured Life Medicare Supplement Plan N is available in Virginia – please see the Assured Life Plan N Virginia Notification and Assured Life Plan N Virginia Rates.
Why Sell Medicare Supplements Over the Phone
Also - Discover the pros of selling Medicare Supplements over the phone in our blog post.
Sources: KHN, Routers