Tuesday President Obama gave the State of the Union annual address. He spoke on health care stating, "Instead of re-fighting the battles of the last two years, let's fix what needs fixing and move forward." He challenged Republicans to help him improve the health care law; and, offered to help them make two changes, adding medical malpractice reform eliminating an unpopular paperwork requirement for small businesses. Medical malpractice reform has been in the works for a while, with Republicans and Democrats butting heads on whether to have fixed caps on damages or not. However, both agree that something has to be done for the approximately 98,000 people a year who die from preventable medical errors. Also, with Obama's suggested changes, small businesses would no longer have to file 1099 forms for payments $600 or more.

He insisted he'll fight repeals to prevent going "back to the days when insurance companies could deny someone coverage because of a pre-existing condition" and he explained how the law is already helping seniors pay for their prescriptions and young adults continue to be on their parent's policies. President Obama also stated he is open to small changes and will consider new ideas to bring down health care costs, urging that repealing the law would increase the federal deficit by $230 billion over the next ten years. Also, during the State of the Union, the President called for more cost-cutting in Medicare and Medicaid. Critics fear Obama is not listening to what Americans want which is repeal, not just small changes. While still others commended him for saying he is open for changes.
How do you feel about President Obama's stand on health care reform in the State of the Union? Do you think he is open enough for change?
Berwick Renominated to Continue to Head CMS
Wednesday the White House issued a renomination of Dr. Don Berwick as the head of the Center for Medicare and Medicaid Services. Republicans, who strongly opposed him being nominated last year, dislike his controversial view in support of the British health system, supplying "eyes open or closed," and question his qualifications and background. However, Berwick has received strong support from most major medical associations. Berwick will face a hearing in the Finance Committee as well as a confirmation by the full Senate before he becomes the head of the CMS. So far, it looks to be a difficult nomination process for him.
Do you like Dr. Don Berwick for the head of the CMS? Do you think he will pass the nomination process?
Medicare Toaster by John Hambrock


by John Hambrock for The Cartoonist Group from "The Brilliant Mind of Edison Lee"
2011 Supply Requisition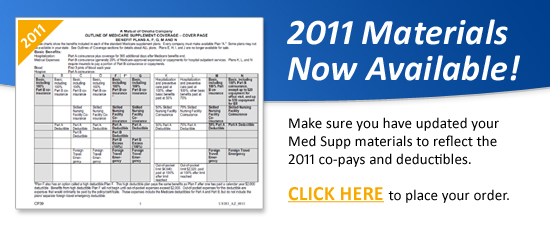 If you were busy in 2010, 2011 will be even busier! Make sure you have the right tools. Update your Med Supp materials for Mutual of Omaha, Forethought Life, Gerber Life, Sentinel Life, and Woodmen of the World/Assured Life to reflect the 2011 co-pays and deductibles.
Sources: KHN, Politico, The Associated Press