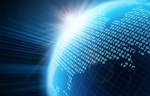 The days of software are numbered. Web applications are the future and if you aren't using them, you are losing out on cost savings and efficiency gains. So what are the benefits of Web apps?
* Available practically anywhere, anytime – Web apps aren't tied to specific machines like software is. As long as you have access to the Internet, you can use it.
* No installation required – no more having to worry about long installations, hard drive space limitations, serial numbers, or remembering where you put all the CDs when you need to reinstall software after a computer crash. As long as you have a browser you are good to go.
* Always updated – one of the pains of software is remembering to check for updates and applying them. Web apps are always current and have the latest features and improvements.
* Less infrastructure required – No server? No IT manager? No problem. The company offering the tool supports the entire web application. Troubleshooting problems is a phone call away.
* More secure – It's probably safe to say that your computer equipment pales in comparison to that of the companies that run these services. As such your data will be much more secure with these organizations than on your computer where even just one piece of malware or a hardware failure can leave you with downtime at best and losing all your data at worst.
These days there are more and more Web apps coming out. I'm going to recommend five to you, but of course, you'll want to research further to ensure these tools will meet your business requirements.
Customer Relationship Management: SalesForce
Managing all your customer data is vital to your organization and Salesforce makes it easier and more cost effective to do it. As with most Web apps, this is a customizable service, so no matter the size of your organization, you will most likely find a cost-effective solution here. All the above benefits apply here.
Document Management: Google Docs
First, Google Docs is free. Second you can share and collaborate online, significantly reducing the amount of back and forth emails and numerous file attachments. Google docs contain the major three office applications – word processing, spreadsheet, and presentation creation. If you haven't yet co-edited the same document in real-time with someone across the country – you're in for a treat.
Web Development: SnapPages
There are many low-cost website creation web apps, but most look exactly like what you paid for them. Also, if you aren't a Web designer, I highly suggest you don't attempt to do it yourself. You don't want to experiment with the face of your organization. Templates are great because experts who understand the requirements of good Web design design them. SnapPages has some of the best templates I've seen and the whole tool is very easy to use for beginners.
Secure File Sharing: Box.net
File sharing is necessary in our industry and since we all deal with very private information such as social security numbers, date of births, and so forth, we must treat our clients' and partners' data with great respect. This means using a very secure method of file transmission. Box.net features a 99.9% uptime guarantee, SSL encryption, redundant storage, and configurable permissions. This tool also integrates with Salesforce and is used by some of the biggest companies, such as Intel and Nike.
Telephony: Skype
If you already have a cell phone, you're probably wondering if there are any alternatives to that expensive landline that has the benefit of being on at all times (not dependent on a battery). You'll want to check out VOIP (Voice Over Internet Protocol) services such as Skype. VOIP services essentially use the Internet to make calls to anyone in the world. Because of this call rates are significantly cheaper than a landline service. Skype isn't a pure web app, but it's close enough. Skype actually has an advantage over pure web apps in that it doesn't require a computer and browser. Skype can be used with many Internet-enabled devices or with Skype-enabled phones. Skype has dedicated services for both small and medium sized businesses that feature video conferencing, instant messaging, IP PBX, and more.