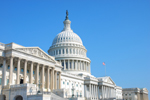 House of Representatives Speaker Nancy Pelosi announced the introduction of a combined health care reform bill that has the primary goal to provide health insurance coverage to 96% of all Americans. Though the bill was announced to cost $894 billion, according to the Wall Street Journal and other major news outlets, the real cost of the bill is expected to be more than $1 trillion once all factors are included, such as changes to Medicare. The following is a list of other key objectives included in the bill:
Insurance for 36 million uninsured Americans will be subsidized
Health exchanges will be established to make it easier for small groups and individuals to purchase coverage
Private insurance companies can no longer deny coverage for pre-existing conditions
Annual out-of-pocket expenses will be capped
The bill will be financed by increasing the tax liability among the rich ($500,000 individual / $1 million families annual income) and reduced spending for Medicare and Medicaid (1.3% annually)
Private insurance companies are able to negotiate reimbursement rates with the government
Individuals are required to have coverage or pay a penalty equivalent of up to 2.5% of their income
Poor Americans are exempt from this requirement
Debate over this bill (consolidated from several committee bills) is expected to begin next week. If this bill is passed, it would then go on to be consolidated with any legislation passed by the Senate. There is still one key issue dividing Democrats in the House that could stall the bill – the use of federal money to pay for abortions.
Weekly Recap:
Nursing Home Costs Approaching $80K/year: According to a just-released study conducted by MetLife on the costs of long term care, private room nursing home rates rose 3.3% to $79,935 per year or $219 a day, assisted care living rose 3.3% to $3,131 per month, adult day services increased 4.7% to $67/day, and the hourly wage of home health care aides increased 5% to $21 an hour.
$800 Billion Wasted Each Year in Health Care: According to an independent report by Reuters, $600-$850 billion a year is wasted by the health care industry. The biggest categories of waste identified were administrative inefficiencies, unneeded medical services, and fraud/abuse.
Health Reform to Lower Costs for Small Business?: The HHS released a report this week explaining how businesses will see lower premiums if health care reform legislation supported by the White House is passed. It is an interesting read for you small business owners; just remember this isn't an independent report.
Gerber's Med Supp Now in CA and IL: Gerber Life's Medicare supplement was released to consumers in CA and IL today.
Sources: Wall Street Journal, CNN, MetLife, Reuters, HHS