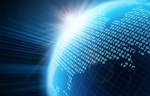 As an organization that sees great success utilizing the latest technology, we are always encouraging our own agents to do the same, especially when it comes to establishing and maintaining a web presence. Since not every one of our agents has the resources to do so, we have developed a free service that provides such agents with an online promotional page.
Our online promotional page service includes development of one web page, graphic design of up to two images, content editing, and a quote form that forwards lead data to your email. That's right, if you are contracted through us for any product, we'll help get you on the Internet at no cost.
There are two major prerequites before we can get started on your page. You need a domain name and a hosting account. If you don't already have these, each can be obtained for a minimal cost at providers such as GoDaddy. For more information about this service, click here.
Weekly News Recap:
Passing of a Leader: Of course, the big news this week was the passing of Massachusetts Senator Edward Kennedy who championed health care reform for nearly 50 years. Whether you agreed or disagreed with his policies, there is no doubt that he faithfully served our country for many years and dedicated his life to improving the livelihood of all Americans.
House Bill Details: The current recess has provided an opportunity for researchers to analyze the bill and make the details known to the public. Two interesting subjects came up this week. First, the Congressional Research Service found that the current House bill allows illegal aliens to receive benefits under a government system. Second, two lawmakers said that a provision in the bill that allows a public health plan to negotiate payments with providers could be dropped by the House panel. Those opposing the provision say it would drive costs up for consumers rather than lower them.
CMS Medicare Project Success: CMS announced on Wednesday that several of its demonstration projects provide strong evidence that financial incentives can increase the quality of care for Medicare patients and reduce the growth of Medicare expenditures. The VBP (value-based purchasing) initiative, the HQID (hospital quality incentive demonstration), and the MCMP (medicare care management performance) demonstration are all showing that actively paying for high quality care is a much better way to manage Medicare than just being a passive payer of any kind of treatment.