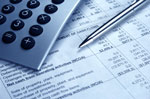 One of the most controversial topics in these financially challenging times is executive compensation, especially for those companies that are receiving TARP funds, otherwise known as a "government bailout." In recent weeks, AIG has faced immense criticism, investigations, and lawsuits over $165 million in bonuses paid out to top executives despite receiving billions of dollars in TARP funds and continually worsening performance resulting in losses in the billions of dollars.
With life and health insurance companies financially suffering in 2008 and 2009, most are either lining up to receive TARP funds, reducing coverage, or laying off employees to adjust to the current economic climate. This peaked my interest in researching what corporate leadership of these companies are sacrificing. What did I find? Not much. Most CEO's compensation decreased across the board, but was mainly a result of losses in stocks they hold or bonuses not received. Salary remained the same, and most still did receive bonuses of some sort.
So where do you stand on the issue of CEO compensation? In 2007, the average CEO was paid 344 times more than the typical American worker. Are they worth it? Is it even ethical? Should limits be placed on it? Below you will find 5 examples from our own industry. Read and let us know what you think. Here is the data I gathered from Associated Press articles:
Genworth Financial: CEO Michael Fraizer received a compensation package worth $3.6 million in 2008. In 2008, Genworth lost $572 million and saw its stock price plummet 89%. For 2009, the stock has taken a nose dive to close at $2.26 as of April 13, 2009. This recent fall was a result of Genworth missing the TARP deadline, however the company is exploring alternative methods of acquiring the funds.
Prudential Financial: Chairman, President, and CEO John R. Stangfeld received compensation valued at $16.3 million in 2008. He received a salary of $970,769 and a bonus of $3.3 million with the rest coming from stocks and options. In 2008, Prudential's financial services businesses lost $1.10 billion and its shares sharply declined by 68% and have lost another 38% of their value as of April 2009.
Hartford Financial Services: Chairman and CEO Ramani Ayer received $7.3 million in 2008. Ayer's base salary was $1.15 million with the rest coming from stocks and options. Like other CEOs, he received perks such as a car allowance, financial planning services, and retirement contributions adding up to $133,943. In 2008, Hartford lost $2.75 billion. As of April 2009, Hartford stock continues to drop due to fears about the company's bonds.
Lincoln National: CEO Dennis Glass received $9.1 million. His salary was $1 million and received performance-related bonuses adding up to $800,000. The rest came on other financial compensation options and stocks. In 2008, Lincoln National's stock plummeted 68% and has lost a further 45% as of April 2009. Unlike others, Lincoln posted a 2008 profit of $56.8 million, however it pales in comparison to the $1.21 billion profit of 2007.
Aetna: The company isn't applying for TARP, but I'm including it because it is about to layoff 3% of its workforce, or about 1,000 jobs to "adjust to the slowing economy." Chairman and CEO Ronald Williams received $17.4 million in 2008, including a $1.1 million salary, a $1.9 million bonus, and use of a personal corporate aircraft. In 2008, Aetna's profit declined 24% and its stock price dropped from $57.73 to $28.50.