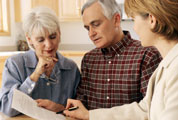 With many baby boomers losing their jobs or being forced to retire early, many are turning to Medicare to fill the gap created by the loss of their primary health insurance. As experts in the field, we know that Medicare itself is insufficient to meet the needs of the long life expectancies of baby boomers and seniors. With two Medicare solutions available – Medicare Supplement and Medicare Advantage – how is a client to choose which is the best for them?
In our experience, Medicare Supplement has proven to be a more stable product and suitable for the vast majority of clients. Medicare Advantage can be a great option for the right client; however there are several inherent attributes that make it a riskier investment. Here are some key risk points to discuss with your clients if you are considering selling Medicare Advantage:
It may not be cheaper

– Medicare Advantage may not cover the same benefits as traditional Medicare, leaving your clients to pay the full price for non-covered issues and for out-of-network services
The rules change every year

– Your clients' plans may undergo changes to what they cover, or they may be combined with other plans. Either way, what your clients see in the beginning is not what they may get when they use it.
Fraudulent marketing remains a problem

– It is up to you to inform your existing and new clients of what is true and what isn't. Don't let them be tempted by scams.
Doctors and hospitals are increasingly refusing it

– With doctors and hospitals receiving fewer reimbursements, many are no longer accepting Medicare Advantage. Your clients must ensure that the medical facilities and physicians they go to accept it to be covered.
Pre-certification may be required

– Many Medicare Advantage plans require clients to meet certain criteria to be covered for certain types of care. Failure to follow these rules can result in expensive penalties. This doesn't apply to traditional Medicare or Medicare Supplements.