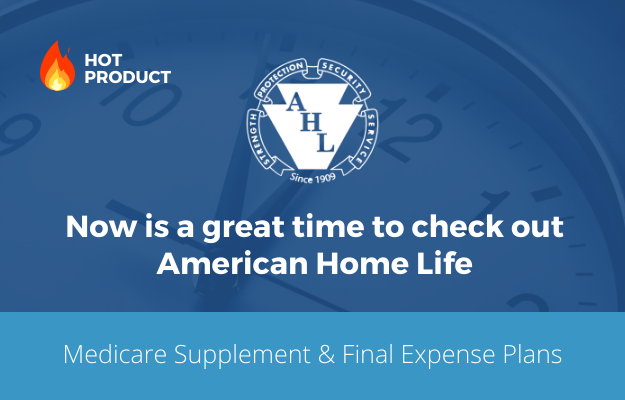 Together Is Always Better

---
With the bundled solution from American Home Life (AHL), producers and customers alike can enjoy a product with more benefits and less complexity to holistically address the needs of clients — the way insurance was meant to be.
Finding The Best Plan For Your Client
Whether your client needs Final Expense or Medicare Supplement, American Home Life has exactly what they need. Our Patriot Series Final Expense product is available to provide flexible coverage to meet your client's unique needs and our Medicare Supplement product offers Plans A, F, G, and N with varying amounts of coverage.

With more tools for agents, and benefits for customers, this offer is almost two good two be true.
Quick to Close, On to the Next

Is the client already qualified for the Med Supp plan? With only two more questions and no additional phone interview, they're already accepted — guaranteed! — for their discounted final expense policy.

Super Preferred Final Expense

Who doesn't love a 20% savings! This rate, when combined with a Med Sup, is the #1 rate for a Final Expense plan and will save your clients year after year!! Your business will never be replaced because the rate was too high.

Making it easy to do business

The Agent Services team is focused on your needs as a new or experienced agent/agency. We want to help you grow your business. With quick access to rate quotes, sales materials, product training, and more.

We look forward to working with you on the great opportunity. To request product details and contracting, Please complete the request form and we will send over everything you need to get started.
In the meantime, here are a few resources to review:
AHL Microsite link Medicare Supplement Brochure Final Expense Brochure



Since 1909
AHL was founded and operates today as a Mutual insurance company. A mutual insurance company is simply a company that is owned exclusively by its policyholders; it has no shareholders and is not publicly traded on any exchange. This distinction is very important because it means AHL can solely operate in policyholder's long-term interest without having to weigh the effects company decisions may have on shareholder's short-term interests. As a result, AHL is superiorly positioned to navigate its way through unexpected future financial or political events and is ultimately better able to fulfill its obligations to its policyholders both on time and in full when we're needed most. A long-term and conservative investment management philosophy has always been the foundation of AHL's financial strength and stability. AHL's asset management team deploys capital into the marketplace under a highly customized, conservative investment strategy that prioritizes ongoing, long-term financial solvency above all else. AHL's past and present performance has earned the company a "Stable Outlook" rating from AM Best, the industry's leading rating agency. AHL's portfolio is currently and will remain well-positioned to continue fulfilling its obligations to policyholders now and into the future, regardless of the financial climate of the day.