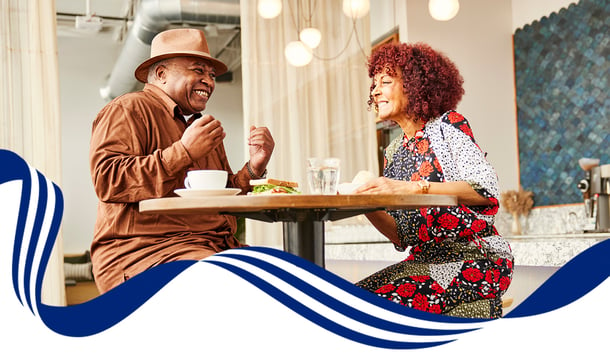 AdvantageGuard - Your client's new option for help covering Medicare Advantage plan copays
Introducing AdvantageGuard, the new Hospital Indemnity product by Golden Rule Insurance Company, a UnitedHealthcare company. With guaranteed issue coverage options for seniors aged 60-741, AdvantageGuard offers flexible, budget-friendly, and competitively priced benefits.
Seniors have the flexibility to choose any healthcare provider they prefer, without being limited by a network. Agents can take advantage of an upfront 12-month commission advancement program.2
AdvantageGuard is a product of an "A+" AM Best rated3 carrier, bearing the historic UntedHealthcare brand. With features designed to meet the specific needs of seniors and attractive sales benefits for agents, AdvantageGuard may be just the solution for those seeking robust and affordable hospital indemnity coverage.
Here is what sets AdvantageGuard apart:
Guaranteed issue options for ages 60-741
12-month commission advancement2

No networks – benefits are the same regardless of network or provider

A health insurer with "A+" AM Best rating3
Affordable/competitive premiums
Let Golden Rule Insurance Company offer you plans that meet your client's coverage needs
If you would like to get contracted to sell AdvantageGuard or other Golden Rule Insurance Company products, complete the form to get started.
Precision Senior Marketing is an independent broker agency offering plans underwritten by Golden Rule Insurance Company and other insurers.



---

1Guaranteed Issue cases must be equal to or less than the GI max allowable base and rider benefit selections. Applications submitted where one or more base or rider benefits exceeds the allowable GI max will be subject to Simplified underwriting.
212-month Commission Advance is only available through YourFMO.com, LLC. contract
3Ratings as of 12/09/2022. This worldwide, independent organization reviews insurance companies and other businesses and publishes opinions about them. This rating is an indication of financial strength and stability. For the latest rating, access www.ambest.com.
49977-G-0823
Agents Only. Not Intended For Consumer Use.