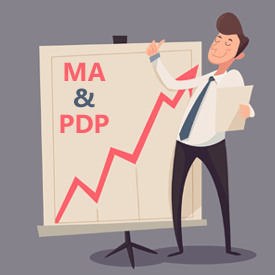 For 2017 effective dates, CMS has increased maximum broker commissions for both Medicare Advantage and Prescription drug plans. Below is the content from the memorandum published by CMS.
SUBJECT: Contract Year 2017 Agent and Broker Compensation Rate Adjustments, Submissions, and Agent and Broker Training and Testing Requirements
This memorandum provides the updated agent and broker compensation limits for Contract Year (CY) 2017 and information regarding submitting compensation amounts to the Centers for Medicare & Medicaid Services (CMS) through the Health Plan Management System (HPMS).
Additionally, this memorandum provides requirements for Medicare Advantage organizations, Prescription Drug Plan sponsors, and Section 1876 Cost Plans (herein after "organizations") to use in developing their curricula for training and testing agents and brokers for CY 2017.
Compensation Rate Adjustment for CY 2017
As provided in 42 C.F.R. §§422.2274(b)(1) and 423.2274(b), the compensation amount paid to an independent agent or broker for an enrollment must be at or below the fair market value (FMV) cutoff amounts published yearly by CMS.
The chart below summarizes the CY 2017 FMV cut-off amounts for all organizations.

Medicare Advantage Broker Commissions:
For CA and NJ, initial MA commissions increased to $553. Replacement commissions increased to $277.
For CT, PA and DC, initial MA commissions increased to $498. Replacement commissions increased to $249.
For all other states, initial MA commissions increase to $443. Replacement commissions increased to $222.
Medicare Part D Broker Commissions:
Initial PDP commissions increased to $71. Replacement commissions increased to $36.
Click on the link below to read the full article.
Source: CMS
Image courtesy of Freepik

Additional Updates: