Trump Administration Hits Inboxes With Promotions for Private Medicare Plans
(Image: Freepik)
WASHINGTON — Older Americans have been flocking to Medicare's private plans, which promise predictable costs and extra benefits.
But the private Medicare Advantage plans have also been getting an unpublicized boost from the Trump administration, which has in the last few weeks extolled the virtues of the private plans in emails sent to millions of beneficiaries.
Medicare's annual open enrollment period closes on Friday. Administration officials predict that almost 37 percent of the 60 million Medicare beneficiaries will be in Medicare Advantage plans next year, up from 28 percent five years ago.
The officials deny that they are steering patients to private plans, but the subject lines of recent emails read almost like advertisements. "Get more benefits for your money," says a message dated Oct. 25. "See if you can save money with Medicare Advantage," said another sent a week later.
The messages — "paid for by the U.S. Department of Health and Human Services" — urge beneficiaries to "check out Medicare Advantage" and point to an online tool, the Medicare plan finder, to compare the different options.
"You may be able to lower your out-of-pocket costs while getting extra benefits, like vision, hearing, dental and prescription coverage," said an email sent to beneficiaries on Wednesday.
"With Medicare Advantage," says another email, "one plan covers all of your care."
In small print, the emails say they were "created and distributed by the Centers for Medicare and Medicaid Services" to people who "signed up for email updates from the Medicare team."
Seema Verma, the administrator of the Centers for Medicare and Medicaid Services, said the agency was not favoring private plans over the original government-run Medicare program.
"We are not steering any Medicare beneficiary anywhere," she said.
But Richard S. Foster, who was for many years the nonpartisan chief actuary of the Medicare program, said the emails sounded "more like Medicare Advantage plan advertising than objective information from a public agency."
"The statements made in the emails are generally accurate, but they are one-sided," Mr. Foster said. "The advantages of M.A. plans are emphasized, while the disadvantages are not mentioned."
For example, he said, private plans generally require beneficiaries to use a defined network of health care providers or pay more for care outside the network. By contrast, in traditional Medicare, beneficiaries can go to any doctor who accepts Medicare, as most doctors do.
Jo Murphy, who has counseled thousands of Medicare beneficiaries as the director of Michigan's State Health Insurance Assistance Program, said: "It seems that there are a whole lot of promotional emails coming from the federal government. There does seem to be encouragement to go to Medicare Advantage, part of a trend favoring private companies over traditional Medicare, for whatever reason."
Federal spending on Medicare Advantage will nearly triple in the coming decade, to $584 billion in 2028, from $210 billion this year, the Congressional Budget Office estimates.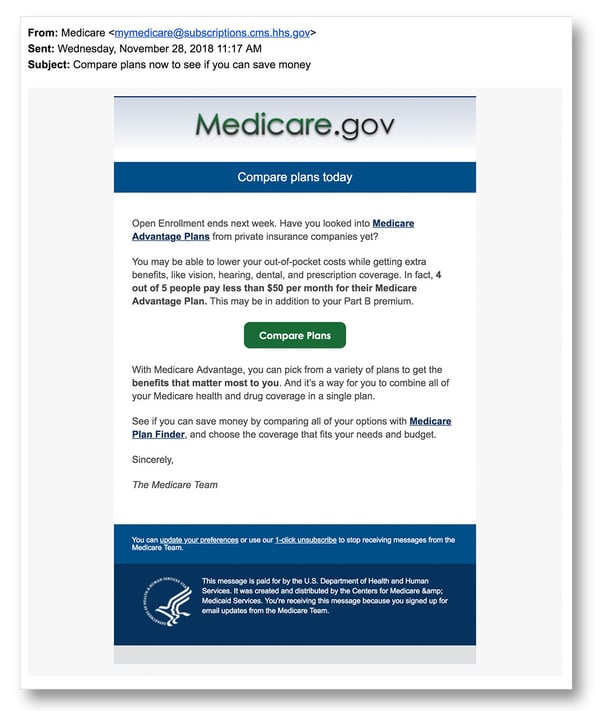 Additional Updates: